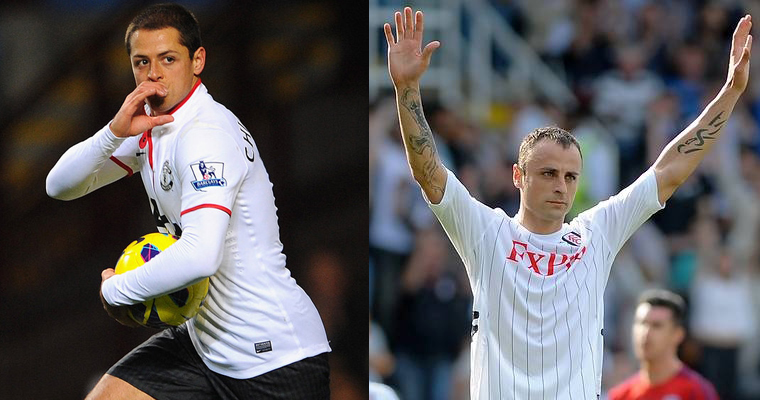 Dust has settled on another week of fantasy football and it seems as if there are no changes right at the top of the league with Tom Shipley's Apocalypse Dudes still leading the way despite Tom Sands' Prison Break FC being hot on his heels. The big scorer of the week was Nicky Greenhow and his Boomerwanger with a cheeky little 51 points taking him up to 15th place. The top and bottom five in the league remain unchanged and Matthew Hurley 12Fort still look on course for the big wooden spoon at the end of the season.
Here's how the Prem sized up this weekend:
Aston VS Man Utd 2-3
Arsenal VS Fulham 3-3
Everton VS Sunderland 2-1
Reading VS Norwich 0-0
Saints VS Swansea 1-1
Stoke VS QPR 1-0
Wigan VS West Brom 1-2
Chelsea VS Liverpool 1-1
Newcastle VS Hammers 0-1
Man City VS Spurs 2-1
BIG HITTERS: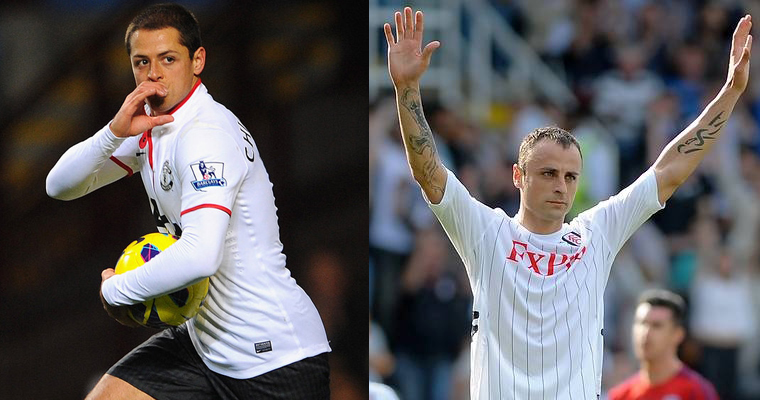 You'd be forgiven for forgetting that these two titans of the Premiership were once teammates, and in fact the form last season of The Little Pea was arguably the reasoning behind Berbatov's trip down to Craven Cottage. It isn't all smiles and fun for the man looking to emulate Ole Gunnar Solskjaer though as Javier Hernandez has spent a lot of the season getting splinters on the United bench much as his counterpart Berbatov did the season before. However, it seems as if the heroic exploits of Hernandez will inevitably be rewarded as he has pretty much single handedly beaten Chelsea (with a little help from Mark Clattenburg) and Aston Villa in the space of two weeks. With United trailing 2-0 at Villa Park in the 46th minute despite having 72% possession Hernandez was introduced as a sub and ended up steering the Red Devils to another comeback to be salavated at. Unlucky to be denied a Hat-Trick and having his tally dropped to 2 goals and an assist the striker notched up a sweet 14 points to give all the fantasy football managers out there something to ponder before Utd make the trip to Norwich for Saturday's late kick off.
The other big boy of the week is still trying to convince Fergie that he should've never been demoted to the bench and forced to leave the club as he managed to bag himself two goals and an assist against an otherwise unimpressive Arsenal team. Berbatov has now managed to be directly involved in 8 out of the last 9 goals Fulham have scored banging in 5 goals and 3 assists over the past few weeks. At a mesely 5.2 million and with Sunderland at home as their next game you'd be stupid not to back the balding Bulgarian.
BIG SHITTER: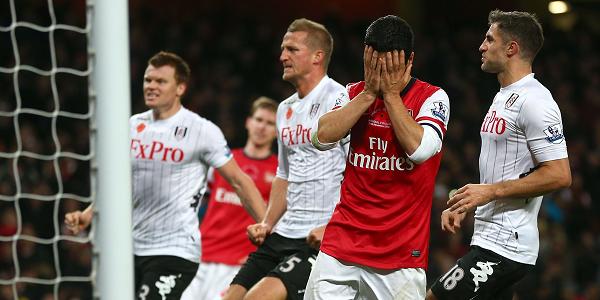 With the captain's armband cutting off circulation to your arm, your club on the verge of their first victory in 90 minutes since they scraped past QPR at the end of October and your penalty record being pretty much untarnished you gotta hit the target right? Not when you play for Arsenal you don't. Any slim title hopes and aspirations that the Gunners might hold have all but gone up in smoke around the 94th minute of their 3-3 draw with Fulham and The Emirates Ghost Town Stadium. He may have bagged himself an assist, had an ok game and in all fairness the save from Schwarzer was fantastic but Arteta looked like a shell of a man after handing over his team's chances of a good season. With a game at home to Spurs at midday on Saturday I can't help but think Arteta is gonna play like a man who has been swallowed up by the Earth. It might be worth getting him out of your team before he goes on meltdown. Here's that glorious Gunner moment again for all to see:
[yframe url='http://www.youtube.com/watch?v=jfDdANEv0Sk']
Of course there are midweek internationals so make note of the players t hat get injured before you make any transfers…here's what Prem games there are to look forward to this weekend:
Sat 17 Nov 2012 – Premier League
Arsenal v Tottenham 12:45
Liverpool v Wigan 15:00
Man City v Aston Villa 15:00
Newcastle v Swansea 15:00
QPR v Southampton 15:00
Reading v Everton 15:00
West Brom v Chelsea 15:00
Norwich v Man Utd 17:30
Sun 18 Nov 2012 – Premier League
Fulham v Sunderland 16:00
Mon 19 Nov 2012 – Premier League
Predictions this week are that Arsenal play out a scrappy draw with AVB's Spurs in the North London derby. Liverpool finally win at home against an otherwise average Wigan team. Man City carve a hole through Aston Villa and fill it with at least 4 goals. The Toon brave the oncoming Welsh front and scrape out a win at home to Swansea despite Michu grabbing a goal. Battle of the worst managers in the Prem sees QPR beat the Saints 2-1 further denting poor old Nigel Adkins chances of keeping the job. Everton beat Reading. Chelsea beat West Brom. Utd smash Norwich. Berbatov beats Sunderland, just. West Ham grind out a draw against the Anti-Football alliance on a horrible Monday night in East London.
Here's how the league looks:
Sick Chirpse
League PIN: 8009937
POS
Manager
Team name
Total points
Week pts
Starting
XI pts
Starting
XI pos
Goals
Goal Pos
Overall Position
1
Tom Shipley
Apocalypse Dudes
468
33
376
34121
33
1243
5519
2
Tom Sands
Prison Break FC
457
41
396
15247
30
5576
9164
3
Huw Barker
HavantGotAClueVille
445
29
450
519
30
5576
15364
4
Gavin Rapaport
Poo
444
24
371
40596
26
27432
16036
5
Shane Tremlin
Trems Trash
430
33
338
98212
19
134650
27517
6
Alex Prince
Prince Boatengs
418
23
367
46211
24
49929
41161
7
Luke Skidmore
bunchofslugs
414
21
363
52339
25
37608
46512
8
Trevor Brenson
RJBs XI
413
24
413
6453
22
80389
47943
9
Emma Craig
The Only Way Is Emma
411
27
377
32931
20
116279
50859
10
Johnny Callow
Room 362
402
34
372
39239
19
134650
64840
11
Dave Ward
Pimp My Side
399
26
366
47720
23
64252
69858
12
Huw E
Dynamo Kebab
394
22
333
108274
18
152696
78442
13
James Martin
Tourist Attraction
392
26
392
18224
19
134650
81829
14
Jeff Ingle
Jeffentus
390
35
277
202595
21
98000
85446
15
Nicky Greenhow
Boomerwanger
386
51
280
199373
22
80389
92852
16
Ross Stearny
stearnpots barmyarmy
384
38
379
30643
20
116279
96574
16
William Rowe
Keefy's Krunchers
384
29
368
44780
26
27432
96574
18
Ben Rowland
Atheist FC
380
34
335
104311
24
49929
104016
18
Redwan Elharrak
Real Talk
380
31
380
29543
20
116279
104016
18
Ben Lawson
spunkin FC
380
50
373
37947
23
64252
104016
18
Dan Filer
ClubTropicanaDrinkFC
380
21
380
29543
21
98000
104016
22
Peter Jones
Joner
379
23
355
65857
21
98000
105994
22
Drew Walsh
Real SocieLAD
379
24
355
65857
19
134650
105994
24
AlexanderMark Jones
Dunblane Massacres
378
29
292
183634
21
98000
107855
24
Michael Magee
Mickey T FC
378
38
370
41925
22
80389
107855
26
Charlie Hey
tiki taka jazz cats
375
32
375
35325
25
37608
113293
27
Matthew Stewart
FC Boosh
374
28
357
62293
20
116279
115145
27
James Blundell
Blundells boys
374
29
311
151821
21
98000
115145
29
Robbie Atkinson
diables Rouges
373
37
297
176000
21
98000
117008
29
Bobby Peliza
bObbyDazzlers
373
28
336
102210
20
116279
117008
31
Mark Endicott
Real Madreadfull
372
28
272
207675
21
98000
118815
32
Piers Dixon
Dixon Balls FC
371
31
393
17436
19
134650
120700
32
David Williams
Muffin stuffers
371
32
364
50812
21
98000
120700
32
Nikul Patani
Brown Bear United
371
25
371
40596
22
80389
120700
35
Richard Dulieu
Dyslexic CF
370
19
370
41925
17
169623
122632
36
Terry Buckingham
Real Madras
368
25
338
98212
20
116279
126267
37
Thomas Foley
Unbelievable Crisps
366
27
301
169446
22
80389
129962
38
Daniel Ostridge
Ajax Treesdown
364
26
360
57226
20
116279
133631
38
Neil Williams
Lumpers and Kickers
364
29
316
142321
20
116279
133631
38
Ryan Williams
Dirty Buffalo
364
22
335
104311
17
169623
133631
41
Ryan Addams
Fish fillet
362
35
264
214502
18
152696
137143
42
Patrick Grayson
real aycliffe
361
22
361
55586
19
134650
138979
43
Ross Williams
Tepee Town FC
360
22
347
80617
19
134650
140764
44
Tim Williams
TIMW_BRAP KILLAS
357
34
353
69309
22
80389
145949
45
Anthony Ward
Park Ji Wonders
352
24
330
114321
19
134650
154338
46
Lee Walsh
KeansaKunt
351
33
265
213761
25
37608
156102
47
Sam MartinRoss
Martin-Boss
349
32
239
227905
20
116279
159358
48
Blake Walton
Walton Wonders
348
27
357
62293
14
211608
161098
49
Elliott Henderson
Barsenal
347
29
301
169446
17
169623
162675
50
Anthony Ford
4 Dimensions
344
28
285
193176
18
152696
167363
50
Shaun Williams
The Galacticos
344
28
323
128371
14
211608
167363
52
Billy Mclean
Barcemoaner
343
31
329
116343
19
134650
168929
53
Martyn Aeissame
Gratuitous FC
340
28
329
116343
15
199490
173426
53
smart les
lemon peng-win
340
22
340
94261
18
152696
173426
55
Jon McLeish
Bayern Bru
337
24
314
146262
15
199490
177809
56
Louis Day
Spews Stars
336
18
336
102210
19
134650
179156
57
Daniel Guy
Dans witwickys
327
10
327
120363
14
211608
191154
57
Toby Dennett
Dennethinaikos
327
40
345
84521
15
199490
191154
59
Matt Morris
Morris FC
325
20
325
124374
16
185285
193714
59
Dean Webster
Blues
325
20
321
132395
16
185285
193714
61
Aaron Hicks
Proud's Prodders
324
24
317
140361
16
185285
194936
62
Alex Crawshaw
Crawshaw's Commies
322
15
296
177595
18
152696
197164
63
Nick Randles
Quallo
320
32
320
134382
13
221711
199383
64
John Ryan
Obi – 1 Kanobi – 0
319
20
319
136338
14
211608
200505
65
Nick Reid
OnOne United
318
18
318
138333
17
169623
201600
66
Mohamed Hussein
Why Always Me FC
317
23
287
190605
12
230083
202668
67
Danny Sharpe
Team Sharpey
316
27
316
142321
16
185285
203684
68
Luke Henderson
Luke Ronald FC
314
28
296
177595
19
134650
205759
69
Christopher Davies
T Dogg's Ball Hoggs
312
19
261
216695
11
236852
207658
70
Alex Taylor
leave-my-arse-a-lona
311
34
301
169446
21
98000
208582
71
David Hewitt
football
310
14
310
153654
14
211608
209471
71
Max Sheppard
Fred West Ham
310
21
291
185098
15
199490
209471
71
Maxwell Hughes
maxibon united
310
16
318
138333
15
199490
209471
74
Jamie Sadur
Skid Mark
309
22
310
153654
14
211608
210456
75
Michael Sinfield
FC Scorgasm
308
28
308
157371
17
169623
211360
76
Richard Gilbert
Queefstars
304
33
304
164430
14
211608
214917
76
Daniel Watson
SirBobWouldBeProud
304
25
274
205792
10
242031
214917
78
Sam Lister
inter thevan
303
25
324
126353
13
221711
215713
78
Ashley Townsend
1 MANNING 1 CUP
303
29
221
232509
17
169623
215713
80
Christian Adofo
The Mandem
301
21
301
169446
16
185285
217295
81
John Twinn
Pav FC
299
26
302
167776
12
230083
218926
82
James Roberts
WOOPWOOP United
293
22
306
160907
9
245922
223246
83
Nestor Schischka
The Winning One
290
18
296
177595
10
242031
225226
84
Josh Watkins
bluesbrother
289
17
289
187884
11
236852
225852
85
Daniel Haviland
Warriors
284
27
284
194526
9
245922
229018
86
John Hawkins
Mmmmcustard
282
18
298
174411
15
199490
230128
86
Jack Hopwood
FC Kaiser
282
19
282
197005
12
230083
230128
88
Dave Bunker
Team Bunker
279
13
214
233600
17
169623
231709
89
Luke Wyborn
The Wombles
278
38
266
212945
11
236852
232237
90
Mark Guy
butchys tanks
274
16
273
206749
14
211608
234189
91
James Tootill
BigDonFC
272
20
269
210422
9
245922
235131
91
Craig Abbs
Team abber
272
25
272
207675
15
199490
235131
93
Steve French
French FC
269
22
269
210422
10
242031
236434
94
Tyler Casey
50 Shades Of Goals
260
22
260
217373
9
245922
239820
95
Tomn Pitts
Gareth Keenan Troops
248
15
248
224248
10
242031
243358
96
Theodore Morgan
DangALangTime
245
24
245
225591
15
199490
244159
97
David Armitage
Real Betties
241
23
241
227169
11
236852
245043
98
Wes Holden
Green FC
231
17
231
230354
10
242031
246888
99
Nick Bourne
Greenham Royals
222
10
222
232331
8
248682
248161
100
Matthew Hurley
12fort
193
27
193
235510
11
236852
250783