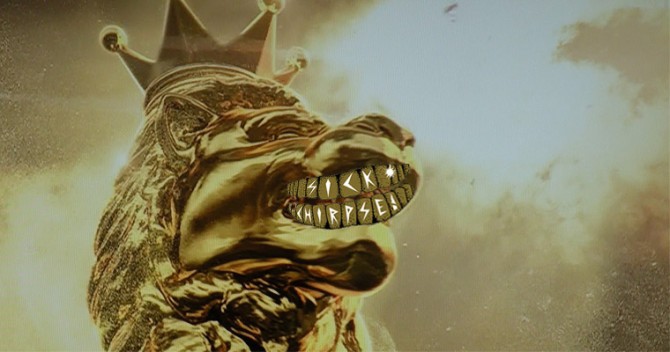 The season has drawn to a close and the dust has settled on the first year of the Sick Chirpse Fantasy League – and we'd like to start of by thanking the 100 participants for doing their best to make it a success – even if their football knowledge really was shit. We'll be running this shit again next year so keep your eyes peeled just before the start of next season and spread the word so we can put a bigger price on the Number One spot next time.
Across the season there have been a couple of big names holding the spot at the top from way back in the first month when we saw Sick Chirpse's own Gav winning the first Manager of the Month thanks to the top performance of his team Poo in the early days before eventually dropping out of the top ten and eventually finding himself chilling in 12th position at the end of the season.
Tom Shipley's Apocolypse Dudes also made an early charge for all the glory alongside Sick Chirpse's own Tom Sands' Prison Break FC but neither had the staying power as they had to settle for 6th and 4th respectively. Apocolypse Dudes also banged in 122 goals to make them the golden boot winners.
Then Peter Jones' Joner started to make their charge with a team comprised of pretty much the entire Chelsea starting 11 which some how worked with the stupid amount of games they were playing – picking up two manager of the month trophies as well as managing to secure 2nd place at the end of the season.
Other mentions go to late bloomer Ryan Williams' Dirty Buffallo who picked up a manager of the month and secured 5th place at the expense of Tom Shipley, and also Sick Chirpse's AMJ with his Dunblane Massacres who managed to  crawl into third somehow.
The winner though and the real stayer of the lot up there is Shane Tremlin and his supposedly ironic Trem's Trash who with their two manager of the months and total score of 1795 took the big prizes.
In the habit of being the most beloved website out there – Sick Chirpse would like to congratulate the Top 5 and Golden Boot winner by sending you all a Sick Chirpse goody bag which will include a Tee and a shit load of stickers (look below for an example, dick head). Send your info through to info@sickchirpse.com and we will get this out to you asap. The big ticket £100 winnings go solely to Shane Tremlin and his Trem's Trash – if you don't send us your info within the week we will spend your money on grass or something so I'd hurry up son.
Enough about all that – the season's over – depression has sunk in. We are all aware that Ian Holloway and Crystal Palace are back in the Prem now, that Rooney and Suarez are pretty much leaving their clubs and we all watched England Vs Ireland the other night and England V Brazil and we're all embarassed to be a fan of the national team. But just cos the season is over doesn't mean we can't look back at it and see who has produced the most serious tekkers and who has been the biggest barrell of shit this season.
So here it is Sick Chirpse's BIG HITTERS and BIG SHITTERS of the 2012/2013 season:
BIG HITTERS XI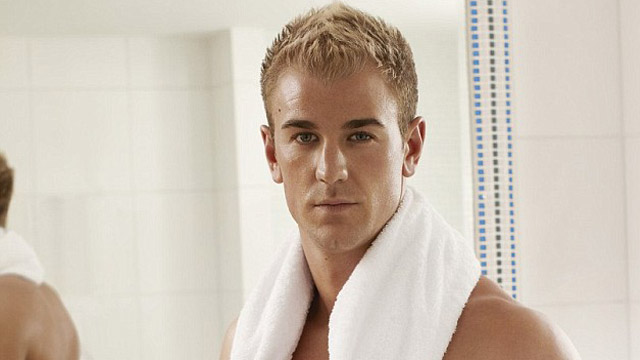 Goalkeeper – Joe Hart. Manchester City. 4.0 Million. 140 points.
The most expensive keeper in fantasy football at a whopping 4 mil. He might have spent a bit of time on the City bench after a few howlers and a lot of people chose Begovic and his 111 points for a mil cheaper but you just can't put a price on that kind of quality – or comedy gold from his stupid dandruff adverts.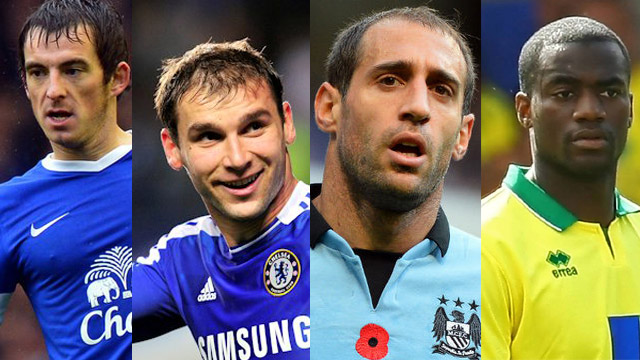 Defender – Leighton Baines. Everton. 4.1 Million. 172 points.
"Leighton Baines, I bet you think this song is about you." The highest point scoring defender and regular Sick Chirpse Big Hitter. Not even in the top ten priciest defenders in the league. If you didn't have him you wouldn't have found yourself in the top 10 this year. Whether he stays at Everton next year or join Mr Moyes you can be sure that the free kick and corner taking left back is gonna be top of everyone's fantasy football wish list for defenders.
Defender – Branislav Ivanovic. Chelsea. 4.2 Million. 158 points.
Whether he is repping it at full back or centre half you can guarantee one of two things: 1. He'll be a formidable opponent. 2. He'll look drunk as a skunk. It seems that since Shevchenko and Ballack have left Chelsea Branislav does not seem like a drunk fucked up Russian when he is playing but has fast become one of the best defenders in the Prem. With 6 goals in the Prem and the second highest points haul for a defender he has thoroughly impressed.
Pablo Zabaleta – Manchester City. 3.4 Million. 131 points.
Sneaking in just over Patrice Evra is the fantastic Pablo Zabaleta. A man who has once again been the subject of praise as well as criticism this year but has come out shining. The Argentinian may not have had the best season with Man City but has come out smelling of roses – whilst repping it as both a left and right back for the FA Cup and League Runners Up. Praised often for his quest for goals and assists he has added a real element of defence to his game this year which is evident in the fact that he attempted more tackles than any other defender in the Prem this year.
Sebastien Bassong – Norwich City. 2.9 Million. 111 points.
It's all well and good having a team full of obvious picks and calling it a team of the season but it has to be said that not many people would've entrusted a Norwich defender – let-alone Bassong – to help steer them to a couple of clean sheets and +100 fantasy points. After a slow start to the season he proved to be one of the real bargains as he is ranked as the 4th most value for money defender this year.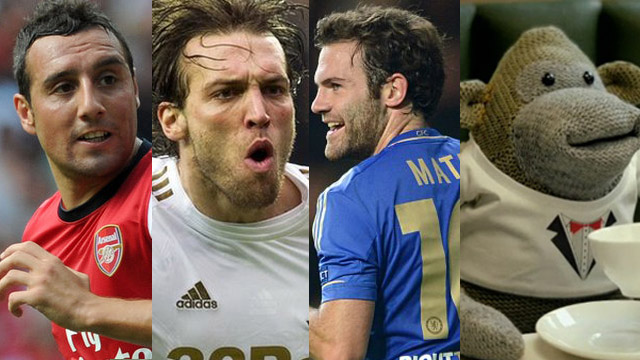 Midfield – Santi Carzola. Arsenal. 3.2 Million. 184 points.
This midfield dreamer has proven to be one of the real big buys of the season for both Arsene Wenger and anyone who popped him in the midfield of their team. He has come out with the best points to pounds ratio in the fantasy football charts at a whopping 57 points/£. He even managed 20 points in one week alone which is more than Lee Cattermole managed in the entire season for around the same price.
Midfield – Michu. Swansea City. 3.3 Million. 167 points.
The Spaniard is Sick Chirpse's favourite and the Premiership buy of the season, despite the fact that he ended up going off the boil as Swansea gave up on life after winning the League Cup and basically securing Premier League status early doors. Goals, goals, and more goals have even seen him come close to the Spanish national team – can't argue with a midfielder who scores 18 Prem goals.
Midfield – Juan Mata. Chelsea. 5.8 Million. 214 points.
Third highest points scorer. Highest scoring midfield player. Not even the most expensive midfielder. What a season it has been for the Spaniard who has helped steer his team to Champs League Qualification and a Uefa Cup win. When he's not featured for Chelsea they've looked like half a team and when he has it has been electric. Long may it continue. What a player.
Midfield – Gareth Bale. Spurs. 5.5 Million. 210 points.
Player's Player of the Year. Writer's Player of the Year. His Dad's Mates Down The Pub Player of the Year. Most like PG Tips Monkey of the Year. He's won the lot. He almost managed to singlehandedly put Spurs in the Champs League and is now off to Real Madrid as a well done. Amazing.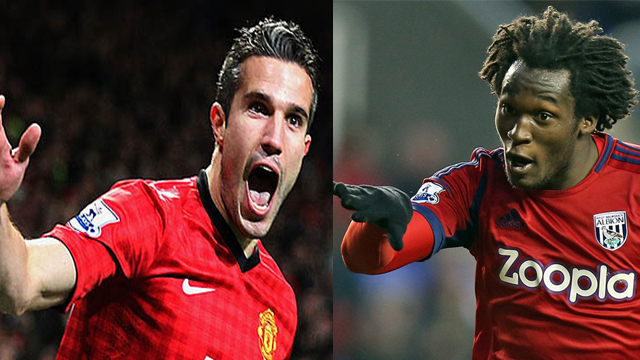 Striker – Romalu Lukaku. Chelsea via West Brom. 3.5 Million. 157 points.
We could've selected Suarez for all his goals, Bentekkers for keeping Villa up despite being a donkey, but in the end it fell to Romalu because he was simply unstoppable at the Baggies. At 3.5 mil he was an absolute snatch and could even fit into the teams where they wanted 3 up fronters. With 44 points/£ he was the best priced striker for what he produced and might even get his chance in front of the three musketeers next season and that would be something to watch. The New Drogba? Maybe.
Striker – RVP. Man Utd. 7.0 Million. 255 points.
Most expensive player. Most points. Best goal. Utter tekkers. League winner. The only thing RVP lacked this season is that he did not get any fantasy league points for rinsing Piers Morgan on the regs. Basically if you didn't have him you weren't gonna win toffee. Simple.
That's the 11 and they would've only cost you a swift 46.9 Million with 3.1 spare to flirt with. You'd have cotched up with a cheeky 1899 points and would've walked the league without a single transfer. Captain Hindsight strikes again.
BIG SHITTERS
There really is no need to go into specifics. We could pick on Hart for the mistakes he made. We could go onto defenders and talk about how Vidic was out most of the season and how Fulham couldn't keep a clean sheet like they usually do. We could talk about David Silva and his lack of ambition to get a single assist. We could even talk about how Fergie kept playing Rooney in midfield despite the fact that loads of us had him up top for us. Even Luis Suarez and his biting/diving/racism somehow skips away from the Big Shitter at the end of the season as it must simply go to one team. And one team alone.
They are called Queens Park Rangers. I started the season with Park Ji Sung in my team. Many people put Cesar in because he was "going to win the league with QPR" – some even trusted Remy when he made his way to the Prem. The bottom line is that despite the 'arry effect, they are a bunch of losers who have sucked a club dry – but the club let them do it. QPR – fuck off and don't come back. Cheers.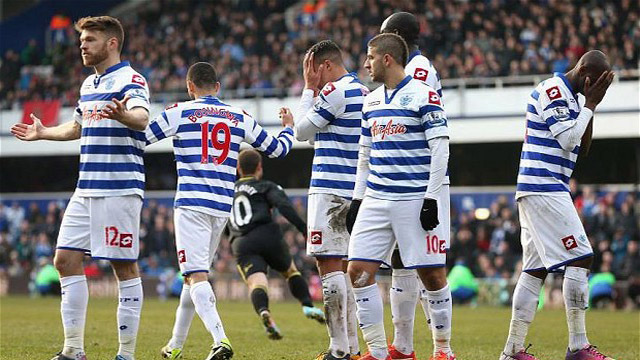 Here's how the league ended up guys. We'll see you next year. Safety.
Sick Chirpse
League PIN: 8009937
POS
Manager
Team name
Total points
Week pts
Starting
XI pts
Starting
XI pos
Goals
Goal Pos
Overall Position
1
Shane Tremlin
Trems Trash
1795
54
1367
70879
98
91729
9645
2
Peter Jones
Joner
1772
61
1360
74770
103
65769
14415
3
AlexanderMark Jones
Dunblane Massacres
1759
60
1274
126187
115
17519
17848
4
Tom Sands
Prison Break FC
1744
57
1285
119496
114
20228
22462
5
Ryan Williams
Dirty Buffalo
1739
71
1353
78818
101
76032
24174
6
Tom Shipley
Apocalypse Dudes
1734
46
1465
27531
122
5074
25942
7
Huw E
Dynamo Kebab
1720
52
1248
141560
106
51195
31521
8
Nicky Greenhow
Boomerwanger
1666
45
1138
194278
96
102131
58062
9
David Williams
Muffin stuffers
1640
41
1467
26889
105
55887
73087
10
Emma Craig
The Only Way Is Emma
1638
67
1233
150147
95
107189
74297
11
Johnny Callow
Room 362
1631
50
1379
64325
101
76032
78434
12
Gavin Rapaport
Poo
1627
23
1329
92851
109
38081
80766
13
Robbie Atkinson
diables Rouges
1604
39
1125
198828
96
102131
94720
14
Bobby Peliza
bObbyDazzlers
1602
68
1291
115813
93
117111
95955
15
Billy Mclean
Barcemoaner
1600
35
1312
103024
102
70769
97099
16
Huw Barker
HavantGotAClueVille
1595
51
1534
10796
97
96954
99989
17
Lee Walsh
KeansaKunt
1594
39
1213
160976
95
107189
100571
18
Matthew Stewart
FC Boosh
1588
54
1270
128586
103
65769
104091
19
Drew Walsh
Real SocieLAD
1586
54
1428
41161
92
121972
105274
20
Alex Taylor
leave-my-arse-a-lona
1579
63
1087
209911
100
81231
109287
21
Aaron Hicks
Proud's Prodders
1561
62
1216
159334
93
117111
119345
22
Jeff Ingle
Jeffentus
1557
24
991
226275
101
76032
121576
23
Terry Buckingham
Real Madras
1554
37
1320
98206
98
91729
123196
24
Max Sheppard
Fred West Ham
1537
50
1148
190512
91
126885
132099
25
Alex Prince
Prince Boatengs
1525
21
1354
78225
97
96954
137990
26
Dave Ward
Pimp My Side
1523
26
1313
102414
86
149824
139012
27
Dan Filer
ClubTropicanaDrinkFC
1519
48
1417
45901
91
126885
140847
28
Ryan Addams
Fish fillet
1512
34
987
226675
89
136323
144176
29
Ross Stearny
stearnpots barmyarmy
1510
35
1326
94599
86
149824
145137
30
Anthony Ford
4 Dimensions
1505
43
1131
196857
81
170297
147406
31
Jon McLeish
Bayern Bru
1498
64
1393
57119
88
140981
150558
32
Tim Williams
TIMW_BRAP KILLAS
1497
35
1220
157202
97
96954
150975
33
Luke Wyborn
The Wombles
1490
45
1039
219897
93
117111
153923
34
Neil Williams
Lumpers and Kickers
1485
44
1242
144994
90
131623
156035
35
Shaun Williams
The Galacticos
1483
49
1440
36390
76
188121
156825
36
Michael Magee
Mickey T FC
1480
31
1546
8916
85
154107
158074
37
Trevor Brenson
RJBs XI
1467
45
1467
26889
80
174039
163184
38
James Martin
Tourist Attraction
1464
33
1464
27863
91
126885
164389
39
Thomas Foley
Unbelievable Crisps
1456
45
1179
177722
79
177728
167425
40
Blake Walton
Walton Wonders
1451
36
1278
123780
85
154107
169215
41
Ross Williams
Tepee Town FC
1437
58
1346
82796
79
177728
174244
42
Redwan Elharrak
Real Talk
1432
64
1432
39547
72
200807
175932
43
Martyn Aeissame
Gratuitous FC
1431
59
1168
182510
79
177728
176282
44
David Hewitt
football
1430
29
1262
133398
83
162298
176610
45
Ben Rowland
Atheist FC
1426
22
1168
182510
84
158260
177984
45
Piers Dixon
Dixon Balls FC
1426
42
1313
102414
74
194600
177984
45
Luke Skidmore
bunchofslugs
1426
32
1355
77608
89
136323
177984
48
Ben Lawson
spunkin FC
1421
60
1333
90405
79
177728
179594
49
Nikul Patani
Brown Bear United
1420
41
1420
44599
97
96954
179933
50
smart les
lemon peng-win
1408
43
1408
49957
74
194600
183788
51
Ashley Townsend
1 MANNING 1 CUP
1406
34
890
233018
71
203672
184405
52
Mark Endicott
Real Madreadfull
1404
28
965
228684
84
158260
185042
53
Luke Henderson
Luke Ronald FC
1402
40
1212
161536
79
177728
185648
54
Sam Lister
inter thevan
1401
21
1263
132789
82
166424
185971
55
Sam MartinRoss
Martin-Boss
1398
46
916
231833
81
170297
186882
56
Richard Dulieu
Dyslexic CF
1380
59
1380
63745
70
206450
192240
57
Elliott Henderson
Barsenal
1379
55
1241
145573
71
203672
192511
58
John Twinn
Pav FC
1358
26
1139
193907
84
158260
198386
58
Dean Webster
Blues
1358
38
1199
168181
64
221815
198386
60
Toby Dennett
Dennethinaikos
1350
25
1323
96378
64
221815
200522
61
Louis Day
Spews Stars
1345
52
1345
83350
68
211865
201850
62
Jack Hopwood
FC Kaiser
1342
26
1162
185028
57
235917
202602
63
William Rowe
Keefy's Krunchers
1338
34
1222
156144
92
121972
203634
64
Daniel Ostridge
Ajax Treesdown
1326
63
1345
83350
66
217016
206744
65
John Ryan
Obi – 1 Kanobi – 0
1322
34
1322
97003
82
166424
207738
66
James Blundell
Blundells boys
1313
35
1070
213974
81
170297
209913
67
Danny Sharpe
Team Sharpey
1312
40
1312
103024
77
184746
210158
68
John Hawkins
Mmmmcustard
1310
36
1042
219420
67
214457
210617
69
Anthony Ward
Park Ji Wonders
1309
37
1159
186278
73
197763
210837
70
James Roberts
WOOPWOOP United
1300
64
1173
180373
47
249166
212977
71
Christopher Davies
T Dogg's Ball Hoggs
1291
25
1046
218688
56
237622
214990
72
Mohamed Hussein
Why Always Me FC
1289
48
1156
187469
67
214457
215407
73
Matt Morris
Morris FC
1285
45
1285
119496
82
166424
216249
74
Charlie Hey
tiki taka jazz cats
1276
43
1276
124968
76
188121
218243
75
Jamie Sadur
Skid Mark
1266
36
1323
96378
64
221815
220304
76
Maxwell Hughes
maxibon united
1263
51
1220
157202
68
211865
220924
77
Patrick Grayson
real aycliffe
1255
21
1255
137470
73
197763
222572
78
Daniel Haviland
Warriors
1253
45
1253
138666
50
245970
222969
79
Daniel Watson
SirBobWouldBeProud
1243
26
1143
192425
59
232310
224939
80
Daniel Guy
Dans witwickys
1236
54
1236
148409
55
239231
226213
81
Christian Adofo
The Mandem
1224
63
1224
155019
77
184746
228327
82
Steve French
French FC
1223
49
1223
155584
55
239231
228503
83
Michael Sinfield
FC Scorgasm
1216
43
1216
159334
72
200807
229754
84
Josh Watkins
bluesbrother
1192
34
1192
171530
47
249166
233520
85
Alex Crawshaw
Crawshaw's Commies
1183
30
1182
176316
68
211865
234778
86
Richard Gilbert
Queefstars
1179
43
1179
177722
56
237622
235342
86
Nick Randles
Quallo
1179
61
1179
177722
58
234122
235342
88
Mark Guy
butchys tanks
1171
46
1094
208187
66
217016
236416
89
Dave Bunker
Team Bunker
1164
28
969
228339
65
219447
237367
90
James Tootill
BigDonFC
1158
43
1181
176786
41
253754
238137
91
Theodore Morgan
DangALangTime
1092
45
1092
208705
68
211865
245185
92
Nick Reid
OnOne United
1091
26
1091
208954
43
252442
245274
93
Nestor Schischka
The Winning One
1068
24
966
228599
39
254918
247116
94
Nick Bourne
Greenham Royals
1041
26
1041
219599
53
242222
248945
95
Wes Holden
Green FC
1015
52
1015
223474
40
254338
250391
96
Tomn Pitts
Gareth Keenan Troops
1010
23
1010
224121
42
253147
250621
97
David Armitage
Real Betties
986
32
986
226778
57
235917
251754
98
Craig Abbs
Team abber
933
37
933
230914
36
256281
253836
99
Tyler Casey
50 Shades Of Goals
893
15
898
232669
26
259374
255024
100
Matthew Hurley
12fort
873
36
873
233591
53
242222
255498