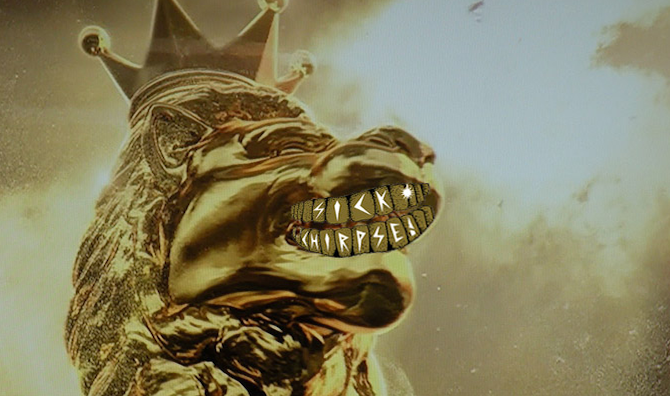 It's been a heavy couple of weeks in the fantasy football and there have been a couple of new chancers making their way into the top ten as we draw to the end of the first season of Sick Chirpse's finest competition. Last time we posted Tom Sands' Prison Break FC were back repping and making their way back up to the top but since then the spoils have been shared every week by a different team.
Week 33 saw the rise of Ryan Williams' Dirty Buffalo who hit 74 to take them up to third place for a week or two, whilst week 34 saw Mike Magee's Mickey T FC rack up 46 as he attempted to scramble his way back into the Top 30. Week 35 was a bad week all round for anyone who knows anything about football which saw Dan Haviland's Warriors and their 46 points make him top scorer but I'm not sure if that is gonna make him feel any better about himself in 75th position.
102 points for Terry Buckingham's Real Madras sees them squeeze into the top 20 for the first time in a while whilst last week seen the reinvention of Tom Shipley and his Apocalypse Dudes hitting 68 to take them back into 4th and only 42 off top spot. The plaudits of the month have to go to the man who has been occupying top spot for too long now as Shane Tremlin's Trems Trash scored 283 as he begins counting his money up at the top.
It's gonna take some serious transfer use and good luck to catch the boy now but it isn't out of sight for a couple of fantasy league big dogs. Arguably any of the Top 6 and maybe even 7 could catch him but they have to utilise every last transfer perfectly and the majority missed out on the big ticket that was Benteke's hat-trick on Monday.
APRIL'S BIG HITTERS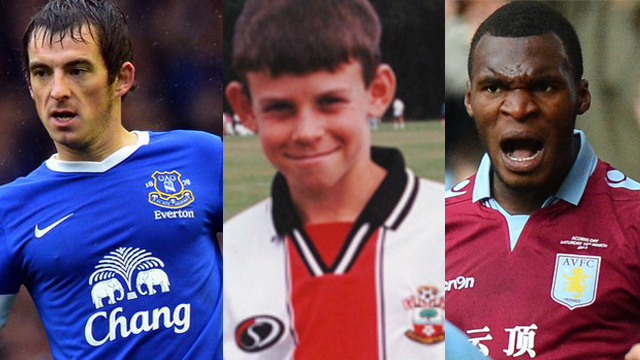 There's a couple of people that we could easily talk about over the last month – there is RVP finally getting over his goal drought and helping take Man Utd to their 20th league title by knocking in a hat-trick, there's Daniel Sturridge and Coutinho doing their best to light the way for a Liverpool future without Suarez – but across the whole month three of the Premierships finest have really stood out.
To start things off Leighton Baines is making another appearance in the big hitters on the basis that over the last 5 weeks he's notched up 33 points with a bag load of assists and that doesn't even describe half of the wonders he is pulling at Everton as he helps steer them to closing in on the Champs League places. A well deserved place in Europe next year, possibly a seat on the Man Utd first team bus and a place in the PFA team of the year awaits this fantastic left back.
The second of the power three has to be the big man – tekkers himself – Christian Benteke. The one man power house is still scoring for fun as well as the love of hitting the net. Who is the only Villa player to score more than 20 Prem goals in one season? Is it Dalian Atkinson? No. Is it Dwight Yorke? No. It is the mild mannered janitor Hong-Kong Fooey? No. It's only bloody tekkers. With 42 points including the 17 he notched up on Monday night he is doing all the right things and is clearly one of the shining young talents of the Premier League – just a shame for him that someone else's star is shining a bit brighter.
Introducing the PG Tips Monkey himself, Gareth Bale. Gareth Bale has only played in 3 of Spurs' last 5 Premier League games but he has still managed 10 points in each of these in terms of fantasy football. Anyone who trusted in Bale coming back from his injury and still firing big time was repaid for the faith. Whilst taking the plaudits for player of the year, young player of the year and writers' player of the year he will most likely win fantasy football player of the year. Basically, if you don't have him in your team (me) then you aren't gonna win toffee this year. Just deal with it. When he isn't busy being found out on Twitter you can guarantee he's thinking exactly how he's gonna spank the ball in the top bin or spend his signing on fee for Real next season.
BIG SHITTER
Luis Suarez has spent his entire season going from Big Hitter to Big Shitter with a heavy mixture of pure class and sadomasochistic tendencies, however, we don't wanna give him any more press than Mike Tyson has all ready allowed him. Here's the video of him chomping on Ivanovic and getting banned for more games than being a racist – you work it out. Tosser.
[yframe url='www.youtube.com/watch?v=0I1TWPm4n6M']
Here's what you can look forward to in Week 38:
Sat 4 May 2013 – Premier League
Fulham v Reading 15:00
Norwich v Aston Villa 15:00
Swansea v Man City 15:00
Tottenham v Southampton 15:00
West Brom v Wigan 15:00
West Ham v Newcastle 15:00
QPR v Arsenal 17:30
Sun 5 May 2013 – Premier League
Liverpool v Everton 13:30
Man Utd v Chelsea 16:00
Mon 6 May 2013 – Premier League
Tue 7 May 2013 – Premier League
Man City v West Brom 19:45
Wed 8 May 2013 – Premier League
Chelsea v Tottenham 19:45
Fulham sure up their Premier League status and someone reminds Berba that the season isn't officially over yet. He scores. Norwich and Villa battle hard but the away team snatch a 2-1 victory. Swansea continue with their inability to win since the Carling Cup Final as Man City do them away – Yaya has a stormer. Spurs see off Southampton despite Rickie Lambert's cheeky goal in their hunt for Champs League football. Lukaku has another stormer as West Brom play out a draw with Wigan…Martinez's ass starts to quiver at the thought of relegation. Hammers play out a draw with the Toon leaving Pardew on the verge of taking the Magpies down. Uncle 'arry tries to shut up shop but Arsene Wenger and Podolski have other ideas. Away win. Liverpool and Everton play out a draw as do Chelsea despite Man Utd having nothing to play for. Sunderland beat Stoke in a terrible game.
Then the extra games that give you chance to use your transfers to get double points…Man City score goals and beat West Brom. Facts. Chelsea do their best to shut down Bale but two draws in a row sees them starting to worry about their Champs League chances.
Here's how the Sick Chirpse League looks guys…there's still a chance to play your last hand and go for the big money:
Super League Table
Sick Chirpse
League PIN: 8009937
POS
Manager
Team name
Total points
Week pts
Starting
XI pts
Starting
XI pos
Goals
Goal Pos
Overall Position
1
Shane Tremlin
Trems Trash
1640
45
1257
72374
93
92317
13477
2
Peter Jones
Joner
1615
50
1261
70005
98
65286
20562
3
AlexanderMark Jones
Dunblane Massacres
1603
41
1190
115095
109
18983
24816
4
Tom Shipley
Apocalypse Dudes
1598
68
1342
30707
114
8053
26777
5
Tom Sands
Prison Break FC
1597
42
1185
118325
107
25270
27198
6
Ryan Williams
Dirty Buffalo
1590
48
1217
97422
98
65286
30097
7
Huw E
Dynamo Kebab
1579
51
1139
147527
100
55152
35175
8
Nicky Greenhow
Boomerwanger
1531
39
1054
191434
92
97735
61292
9
David Williams
Muffin stuffers
1510
40
1376
19597
98
65286
74298
10
Gavin Rapaport
Poo
1503
64
1225
92353
100
55152
78873
11
Emma Craig
The Only Way Is Emma
1502
35
1126
155357
90
108237
79496
12
Johnny Callow
Room 362
1498
40
1270
64790
95
81465
82073
13
Billy Mclean
Barcemoaner
1496
31
1197
110433
99
60174
83345
14
Jeff Ingle
Jeffentus
1468
38
895
227930
96
76095
101100
15
Robbie Atkinson
diables Rouges
1466
44
1035
198654
88
118436
102391
16
Huw Barker
HavantGotAClueVille
1463
40
1389
16274
93
92317
104179
17
Bobby Peliza
bObbyDazzlers
1452
43
1209
102582
88
118436
110946
17
Lee Walsh
KeansaKunt
1452
31
1103
168159
91
103026
110946
19
Drew Walsh
Real SocieLAD
1449
37
1296
50930
88
118436
112779
20
Terry Buckingham
Real Madras
1440
49
1183
119671
91
103026
118119
21
Matthew Stewart
FC Boosh
1432
41
1181
120961
95
81465
122801
22
Alex Taylor
leave-my-arse-a-lona
1425
39
1004
208598
93
92317
126780
23
Alex Prince
Prince Boatengs
1420
24
1231
88610
93
92317
129525
24
Aaron Hicks
Proud's Prodders
1416
61
1093
173381
89
113443
131686
25
Dave Ward
Pimp My Side
1413
37
1208
103233
82
147830
133294
26
Ross Stearny
stearnpots barmyarmy
1404
36
1247
78472
81
152318
138006
27
Ryan Addams
Fish fillet
1403
39
893
228118
84
138500
138544
28
Max Sheppard
Fred West Ham
1401
47
1041
196486
85
133541
139599
29
Tim Williams
TIMW_BRAP KILLAS
1397
46
1114
162266
94
86933
141594
30
Dan Filer
ClubTropicanaDrinkFC
1387
46
1299
49372
85
133541
146410
31
Michael Magee
Mickey T FC
1384
48
1442
6824
84
138500
147892
32
Neil Williams
Lumpers and Kickers
1377
40
1141
146296
87
123621
151161
33
Anthony Ford
4 Dimensions
1373
28
1026
201821
78
165130
153014
34
Jon McLeish
Bayern Bru
1370
43
1276
61411
82
147830
154299
35
James Martin
Tourist Attraction
1360
33
1360
24445
86
128580
158758
36
Shaun Williams
The Galacticos
1359
26
1307
45454
72
187902
159171
37
Luke Wyborn
The Wombles
1358
38
972
216526
85
133541
159618
38
Ben Rowland
Atheist FC
1347
24
1125
155949
82
147830
164255
39
David Hewitt
football
1341
39
1175
124780
80
156690
166716
40
Blake Walton
Walton Wonders
1340
34
1153
138808
78
165130
167130
40
Trevor Brenson
RJBs XI
1340
31
1340
31471
74
180665
167130
42
Nikul Patani
Brown Bear United
1335
27
1335
33406
93
92317
169121
43
Luke Skidmore
bunchofslugs
1332
25
1230
89243
86
128580
170207
44
Thomas Foley
Unbelievable Crisps
1329
33
1080
179843
77
169264
171301
45
Sam Lister
inter thevan
1319
33
1138
148143
80
156690
175029
46
Piers Dixon
Dixon Balls FC
1318
31
1202
107167
72
187902
175380
47
Ross Williams
Tepee Town FC
1309
42
1238
84110
75
177026
178616
48
Mark Endicott
Real Madreadfull
1303
27
912
226163
81
152318
180699
49
smart les
lemon peng-win
1295
34
1295
51410
72
187902
183512
50
Luke Henderson
Luke Ronald FC
1294
40
1129
153597
77
169264
183859
51
Redwan Elharrak
Real Talk
1292
30
1292
53027
67
204085
184544
52
Martyn Aeissame
Gratuitous FC
1291
25
1059
189400
73
184405
184859
53
Sam MartinRoss
Martin-Boss
1289
23
837
232112
76
173239
185549
54
Ben Lawson
spunkin FC
1286
25
1217
97422
73
184405
186520
54
Ashley Townsend
1 MANNING 1 CUP
1286
31
827
232568
69
197979
186520
56
Richard Dulieu
Dyslexic CF
1279
32
1279
59838
69
197979
188754
57
Elliott Henderson
Barsenal
1273
27
1150
140710
68
201015
190649
58
John Twinn
Pav FC
1267
37
1063
187672
80
156690
192570
59
Toby Dennett
Dennethinaikos
1250
32
1222
94261
60
222716
197653
60
William Rowe
Keefy's Krunchers
1249
32
1144
144462
88
118436
197927
61
Dean Webster
Blues
1243
40
1113
162821
62
217799
199707
62
Louis Day
Spews Stars
1238
29
1238
84110
67
204085
201031
63
Jack Hopwood
FC Kaiser
1233
38
1099
170276
55
233339
202383
64
John Ryan
Obi – 1 Kanobi – 0
1219
27
1219
96161
79
161008
206316
65
Christopher Davies
T Dogg's Ball Hoggs
1216
22
978
215211
55
233339
207144
66
James Blundell
Blundells boys
1210
20
975
215882
78
165130
208731
67
Anthony Ward
Park Ji Wonders
1209
31
1067
185937
70
194807
208985
68
John Hawkins
Mmmmcustard
1206
33
989
212537
64
212510
209772
69
Daniel Ostridge
Ajax Treesdown
1203
39
1244
80315
61
220281
210480
70
Danny Sharpe
Team Sharpey
1188
25
1188
116425
70
194807
214173
71
Patrick Grayson
real aycliffe
1182
30
1182
120318
71
191378
215556
72
Charlie Hey
tiki taka jazz cats
1176
21
1176
124110
74
180665
216911
73
Matt Morris
Morris FC
1171
34
1171
127375
75
177026
218154
74
Mohamed Hussein
Why Always Me FC
1167
30
1043
195692
63
215150
219069
75
Daniel Haviland
Warriors
1162
45
1162
133089
47
245792
220144
76
James Roberts
WOOPWOOP United
1159
32
1042
196074
41
251705
220828
77
Jamie Sadur
Skid Mark
1157
40
1209
102582
60
222716
221295
78
Daniel Watson
SirBobWouldBeProud
1137
35
1044
195295
55
233339
225537
79
Maxwell Hughes
maxibon united
1135
36
1096
171827
64
212510
225945
80
Michael Sinfield
FC Scorgasm
1128
33
1128
154170
69
197979
227278
81
Christian Adofo
The Mandem
1123
30
1123
157075
73
184405
228252
82
Daniel Guy
Dans witwickys
1107
23
1107
166068
52
238758
231103
83
Steve French
French FC
1095
35
1095
172306
52
238758
233036
84
Josh Watkins
bluesbrother
1094
26
1094
172833
44
249113
233196
85
Richard Gilbert
Queefstars
1090
32
1090
174863
53
237042
233847
86
Dave Bunker
Team Bunker
1070
15
876
229594
64
212510
236821
87
Alex Crawshaw
Crawshaw's Commies
1059
20
1050
193062
64
212510
238428
88
James Tootill
BigDonFC
1057
20
1073
183148
40
252459
238690
88
Nick Randles
Quallo
1057
35
1057
190234
51
240345
238690
90
Mark Guy
butchys tanks
1036
30
963
218460
59
225075
241304
91
Nick Reid
OnOne United
1004
27
1004
208598
40
252459
244703
92
Nestor Schischka
The Winning One
984
24
882
229110
38
253739
246526
93
Theodore Morgan
DangALangTime
978
31
978
215211
62
217799
247019
94
Tomn Pitts
Gareth Keenan Troops
951
17
951
220656
42
250896
248932
94
Nick Bourne
Greenham Royals
951
23
951
220656
49
243263
248932
96
Wes Holden
Green FC
903
16
903
227169
38
253739
251522
97
David Armitage
Real Betties
899
26
899
227559
52
238758
251710
98
Craig Abbs
Team abber
868
20
868
230209
33
256239
252982
99
Tyler Casey
50 Shades Of Goals
835
21
840
231963
25
258797
254151
100
Matthew Hurley
12fort
801
21
801
233622
49
243263
255098