Another (inevitable?) Brexit extension was granted today and amid all the chaos that has emerged because of it, there's one consequence that stands head and shoulders above the rest in terms of how awful it will be: there could be a pigs in blanket shortage as a result of it.
Featured Image VIA 
The BBC are reporting that 60% of the labour force in UK meat plants comes from the EU and there haven't been enough seasonal workers attracted to the UK this year because of everything that's going on with Brexit. This could lead to a shortage of pigs in blankets this Christmas with the chief executive of the British Meat Processors Association Nick Allen saying the following: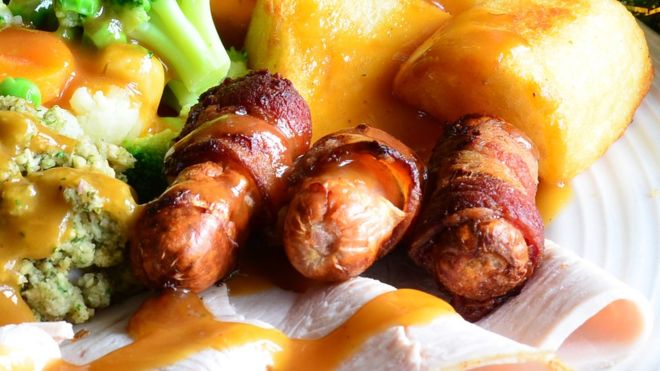 Wrapping cocktail sausages in bacon was done by hand.

The job is fiddly and hard to mechanise.

Finding sufficient labour is becoming a massive challenge for the meat sector as the uncertainty around Brexit is prompting many of our workers to seek jobs in other countries.

If the shortage of these workers continues post Brexit, it could pose a risk to the affordability of British food.

Ever since Brexit happened, it's become hard to hold on to European labour.

The fall in the value of the pound has led to a reduction in wages for them and the message coming out of the UK is not exactly welcoming.

It's not just a Brexit issue as the working conditions in meat packing plants also make it difficult to attract workers.
Great, so that's another thing on the long list of things that Brexit has managed to ruin. Hopefully this is just scaremongering and this won't actually happen, but the fact that we're eve talking about it has got to be seen as a cause for concern. I suppose you can always make your own pigs in blankets if it comes to it, but that's not really what it's all about is it?
For more pigs in blankets, check out Aldi selling these triple pigs in blankets. Yum yum yum.