iPhones are bloody expensive – the new Apple 6S handset starts at around £619, which is a lot to shell out for a phone that's practically the same as the last model.
Featured Image VIA
However, some people are getting out of the expensive price tag with a very simple but effective trick. Now in no way are we suggesting you do the same and in fact, now that this is more common knowledge I'm guessing the phone companies are cluing up to it.
At first it looked like the buyers were the ones being scammed. Software engineer Cory Klein discovered some bad reviews on Amazon while looking for an unlocked Apple iPhone. One guy said:
I ordered an iPhone 6s 64 GB unlocked. When I got the box I found out that the iPhone 6s box contained brown coloured clay and no phone or accessories. Very shocking.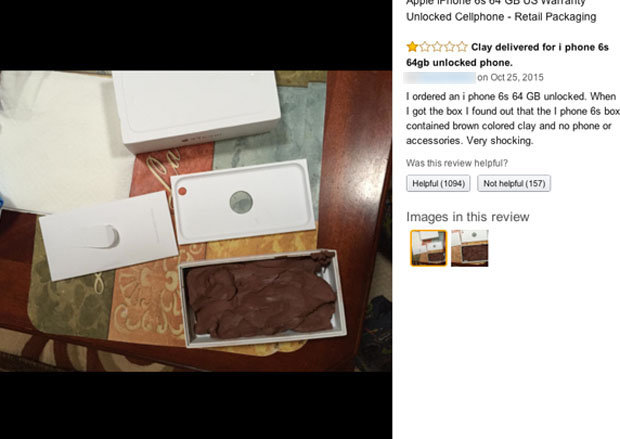 Klein initially thought that the seller was trying to dupe their customers by sending out boxes of clay but was confused as to why there were so many of these reviews online.
Turns out that in fact people have been purchasing new handsets online, stashing the phone and then filling the boxes with clay. Because of the A-Z Guarantee claim promise, the seller will send them a fresh phone. Klein added:
The scammer incurs very little risk. If they win 1 in 10 claims, they pocket $1k. For the remaining nine claims, they can just resell the phone themselves and the only cost they incur are shipping, which is more than covered by the free iPhones they get.
There you go – clever trick. As said, now that it's out there phone sellers are probably not going to fall for it, but up until now I'm sure these guys have scammed a fair few iPhones.
For more of the same, did you know that skint Manchester students are being tricked into shoplifting by this Facebook scam?