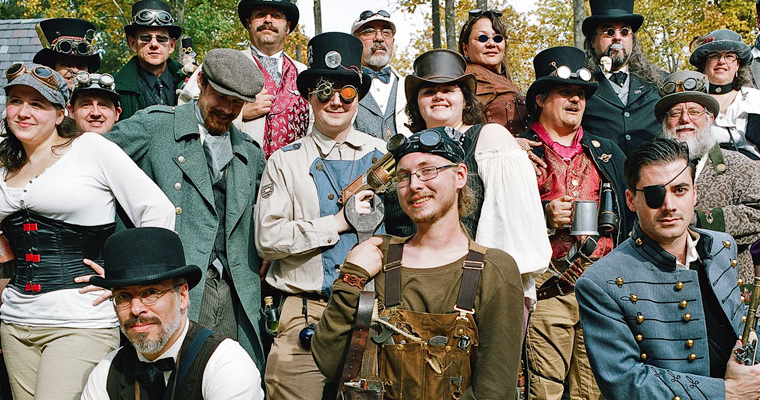 Combustion Books is a publishing company based in New York and they needed some money to release 'A Steampunk's Guide to Sex'. They asked for $2,200 via their kickstarter page and made over triple what they needed.
Steampunk is first and foremost a literary genre that originated in the 1980s. It typically takes the 19th century Victorian/Western era and gives it a sci-fi twist. Much like everything these days, it's taken on its own complete cultural identity. "It's sort of Victorian-industrial, but with more whimsy and fewer orphans" Says Caitlin Kittredge, author of the steampunk novel 'The Iron Thorn'.
[yframe url='http://www.youtube.com/watch?v=9CCvHF5Ov90′]
The book is going to be the second in the 'A Steampunk's Guide…' series following on from 'A Steampunk's Guide to the Apocalypse'. It pledges to give an insight to sex in the life of the coy Victorians as well as looking in to contemporary steampunk sexuality.
Contributors to the book include Alan Moore (The League Of Extraordinary Gentlemen, V for Vendetta, Watchmen), founder of Steampunk Magazine Margaret Killjoy and Professor Calamity amongst others.
Do you remember that film 'Wild Wild West' with Will Smith in it? No, I don't really either but I do remember that mad mechanical spider that was in it. In this book you can learn how to make your own steampunk sex toys including a flogger made with bike tubes and a steam-powered vibrator. If it's good enough for the Fresh Prince, it's good enough for you.
What are Combustion going to do with all that money? Have you ever seen a steampunk in real life? Out of all the suffix 'punk' counter cultures, would you rather hang out with a steampunk or a crust punk?
'A Steampunk's Guide to Sex' is expected to be released in November 2012. Combustion Books are punx and a completely DIY company. You can find out what they're about and their ethics here.
Got twitter? @bengoulder @sickchirpse