If you were to guess as to the location of the country's only free wooden skate bowl I reckon one of the last places you would expect it to be is in Selfridges, but bizarrely that is exactly where it's located.
Featured Image VIA
It's part of the department store's efforts to integrate a new designer streetwear section into the building at their flagship London store. It's called The Designer Street Room (original) and will apparently offer luxury, street and progressive fashion, whatever that means.
I'm guess that they installed the skate bowl to make it authentic and edgy and real or whatever, but I'm not really sure how many people that actually wear streetwear and like it are going to be fooled by it. Surely if you wanna wear clothes like that then you'll just head to your regular retailer/the internet for it and not bloody Selfridges? If anything it's just gonna make the brands that appear in there way less cool as you'll be getting your regular high street idiots wearing them now. Think about it.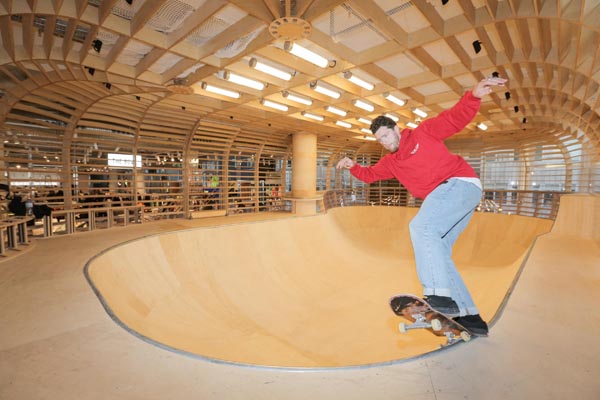 However, having said that it is cool that Selfridges built a skate bowl and made it free so I hope people actually go down there and utilise it. I have a feeling it will be so associated with 'the man' and corporations or whatever that it'll probably just end up being a very expensive white elephant in the corner of the room. We'll see.
For more skating, check out how skating is changing lives in rural Africa. Inspirational.