Despite our greatest fears and what happens in movies like Final Destination 3, I don't think I have ever heard of a roller coaster actually crashing or derailing until last year with The Smiler's infamous screw up. It seems they're all coming out of the woodwork now though, and not content to be left in the shade Scotland's premier theme park M & D's has stepped up to try and top it
Featured Image VIA
One of its rides named The Tsunami actually came off the tracks yesterday during what should have been a fun filled day out at the park. A punter named James Millerick explained what had happened and thankfully it's nowhere near as awful as The Smiler incident:
You heard shrieks from other customers at the theme park.

When we got there the rollercoaster had come off the track entirely. It was upside down on the concrete path.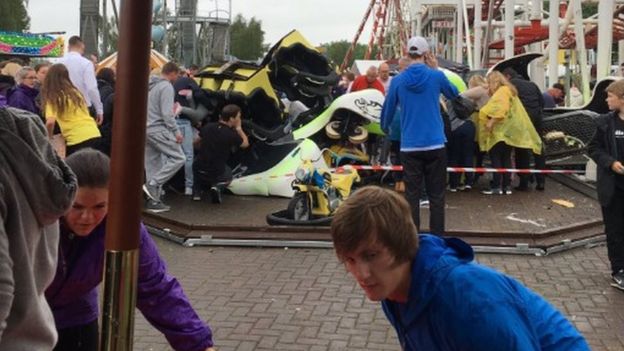 Jesus. Another witness named Katie Burns had this to say, as well as posting a video of the aftermath which doesn't really show us that much but shows us the panic and terror the event caused:
Literally got off the Tsunami at M&D's and then walking past and the next lot of people get on and the full thing goes off the tracks.

Honestly never been so scared in my life, with this weather they should not be on.

Kids and adults are still on it upside down, it's like something out a horror film, children crying and everything.

Literally can't believe this, my heart goes out to everyone on it, a full load came off the track but and on the pavement, like a horror film worse thing ever heard and seen, can't get over this.
https://www.youtube.com/watch?v=l76H2crpuU4
Again, that sounds absolutely horrific and the aftermath looks pretty awful too. Imagine coming off the track and being flipped over and then landing on the ground trapped in this absolute monstrosity. Not what I signed up for at all.
Six ambulance crews and a specialist unit were required at the scene before the thrill seekers were rescued and ten people were sent to hospital, including 8 children. Hoping that nobody has to have any body parts amputated as with The Smiler. The park itself has been closed until further notice.
Having previously had the 'pleasure' of visiting M &Ds before(don't ask), I can't exactly say I'm surprised. Every single ride I went on there caused me physical pain and the place was reminiscent of the kind of travelling carnival you see down your local park for Bonfire Night. Almost surprised something like this hasn't happened sooner to be honest. Sort it out guys.
To see an absolutely horrific car accident, click here.