In another sex scandal involving the school community – it was only last week when a teacher bedded a 16 year old student in Argentina and the video ended up on a porn site – a headmaster has been filmed by students going down on a female maths teacher. Headmaster indeed.
It happened over in Slovenia when students heard moaning coming from what they thought was an empty classroom. Upon further investigation though they found that it actually contained 41 year old married father of two Drago Kameni eating out the pussy of 45 year old maths teacher Manja Meterlj.
The students said they knew that someone was having sex in there because of the moans but couldn't believe it when they discovered their teachers in there as they thought it would just be some other students. Once they spotted them they immediately started filming, as any young kid would do in this day and age.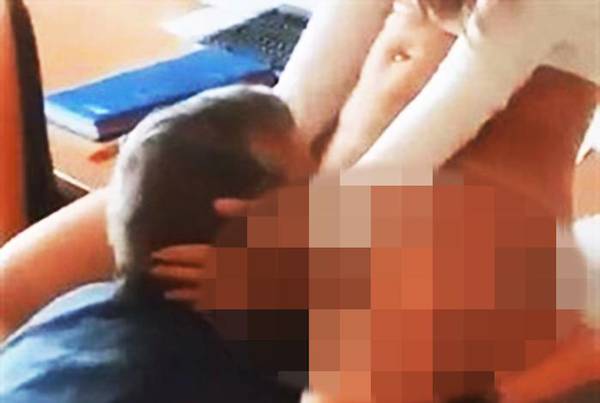 Kameni has vehemently denied the claims, instead arguing that the video has been doctored and his face has been photoshopped in after the events. This sounds like one of the flimsiest excuse in history and also something that can't actually be done by a Slovenian student on Photoshop (or even probably one of the best people in the entire world at Photoshop) but hey it's his story and he's sticking to it:
The man in the video is not me, it has been photoshopped. I also spoke to my wife. Can these fools even begin to imagine what damage they have caused by doing this?! As for the maths teacher, she is a very good teacher and has had many positive things said about her.
Drago has alerted the police and is threatening to sue the students responsible, but they've replied by saying that they'll upload another video clip sooner rather than later that will prove it's him. Sounds like he's fucked – it's good to know that he admired the maths teacher on a professional level as well as a sexual one though and also that he thinks his students are absolute world beaters when it comes to Photoshop. Headmaster indeed.