A teenage Satanist who murdered two sisters with a knife in a London park says he had struck a deal with a demon to win the Mega Millions Super Jackpot if he carried out the murders.
Featured Image VIA
Danyal Hussein, 19, brutally killed Bibaa Henry, 46, and Nicole Smallman, 27, in the early hours of June 6 last year, then hid their bodies in bushes near a picnic spot where they had been celebrating Bibaa's birthday in Fryent Country Park, Wembley.
Spells-obsessed Hussein had cut himself to use his own blood to sign an agreement with a 'demon' named Lucifuge Rofocale promising to 'sacrifice' women in exchange for the Mega Millions Super Jackpot.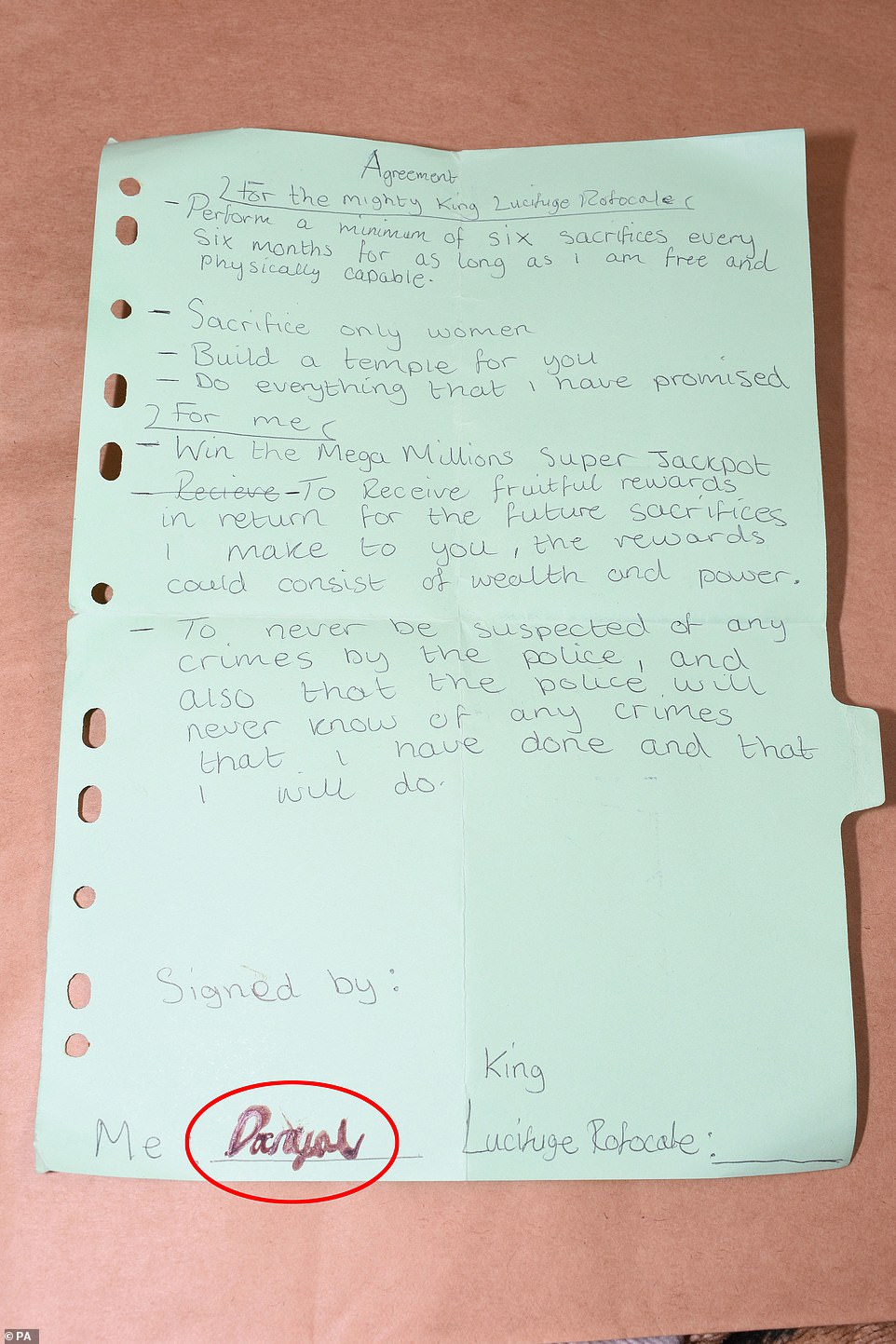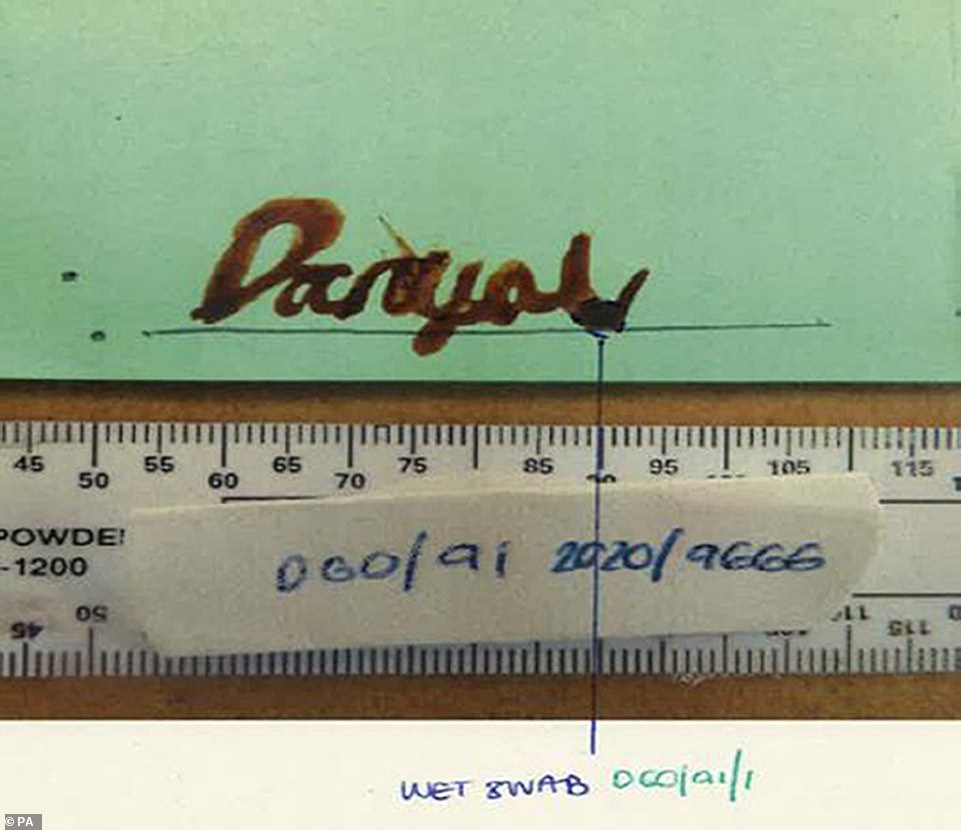 In another note detectives found, Hussein offered blood for 'sexual potency' and to make a girl at his school fall in love with him.
Here are more documents found in Danyal Hussain's room, including spells and pacts to the devil and strange symbols…
According to MailOnline, Hussein, who has Iraqi Kurdish heritage, had been referred to a de-radicalisation programme at the age of 15 by his school – Thomas Tallis School in Kidbrooke, south London – who feared he was 'vulnerable to grooming'.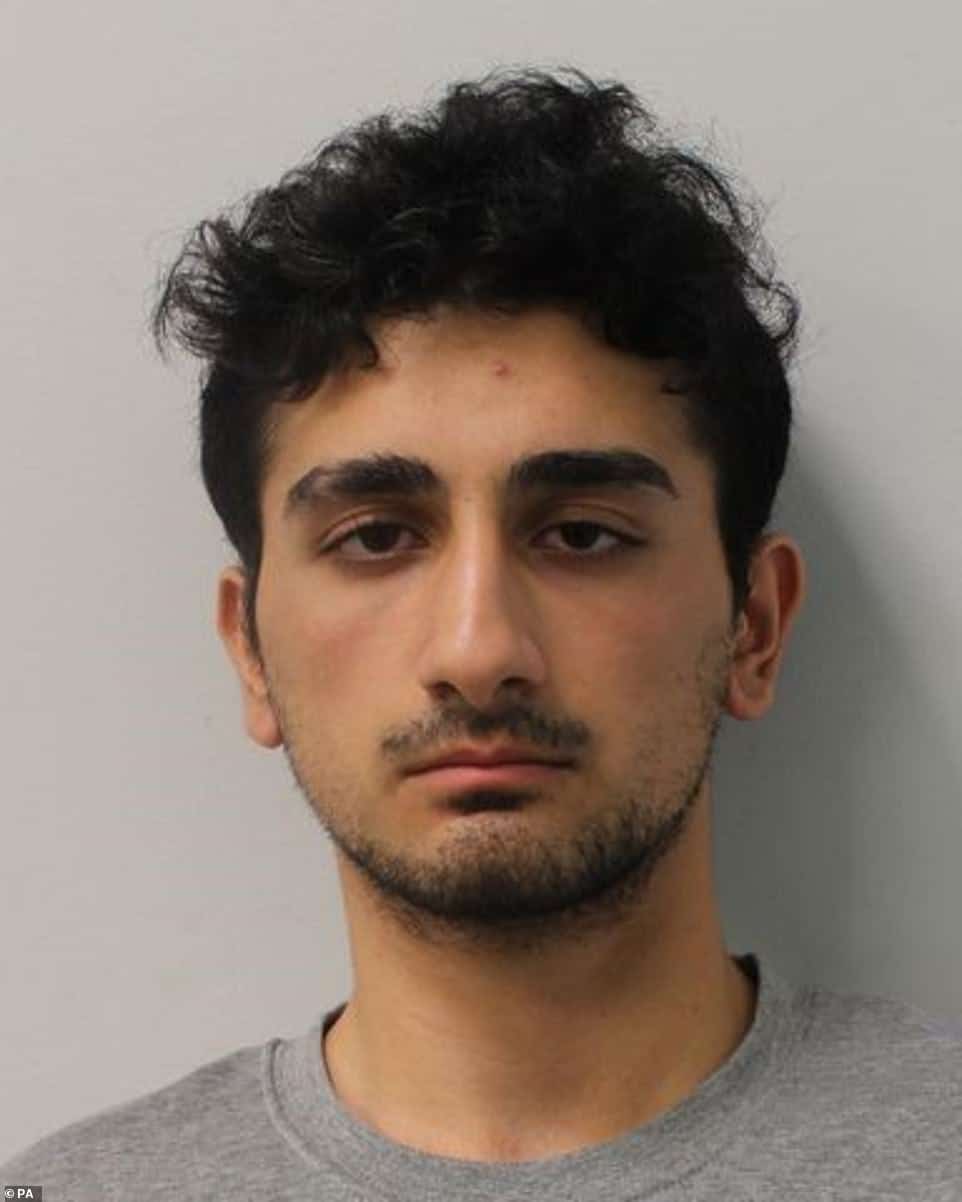 The school raised concerns that Hussein 'may have been displaying vulnerability to radicalisation', but seven months later he was discharged from the process with 'no outstanding concerns at that time with respect to violent extremism or terrorism,' according to a Home Office statement.
Police after his arrest had also asked Apple for help because they were unable to see what he viewed or who he talked to online – but the US courts refused to compel them to 'crack' storage used by his laptop.
Hussein was seen on CCTV walking to and from the park on the night of the murders, and also in Asda earlier that day buying a knife:
Armed with the knife, Hussein launched his attack on Henry and Smallman, who had been celebrating Ms Henry's birthday with friends, and were found the following day by Ms Smallman's boyfriend Adam.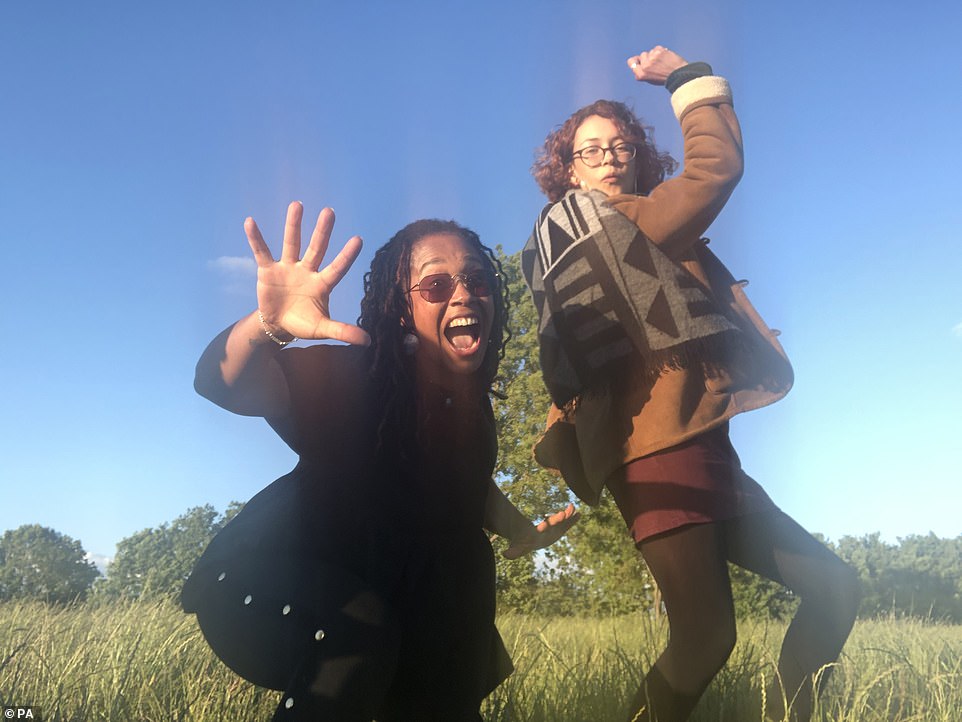 In court, three jurors wept as Mr Glasgow QC read out this statement from Mina Smallman – the mother of the two sisters:
On Friday 5th June 2020, Bibaa's birthday, I knew she had planned an outdoor party with her friends.
Bibaa, being the responsible person that she was, had chosen to have a very small gathering in an outside place where people would be safe.
I know she chose that venue because the plan was that they would watch the sunset together.
Bibaa and Nikki loved music and regularly attended festivals.
The purpose of the birthday celebration was to have a mini festival which is why she planned and organised it the way she did.
Bibaa was a details person hence the cushions, blankets, tablemats.
The weather had been very unpredictable that week and what often goes through my mind is that if it had been raining on that Friday, they wouldn't have been there and this nightmare would never have happened to our family and our precious girls would still be here today.
I was instantly concerned when Bibaa and Nicole had failed to get in touch with their friends, Adam and family after the party. This was so unusual and not like them at all.
On the Sunday morning I woke up stressed. I phoned Adam and asked if he heard anything and he said no.
At 8am I phoned my friend who was ex CID and left a voicemail, my friends could hear the worry and concern in my voice so they immediately called me back and began talking us through the process of a missing persons search.
We had to establish who was at the party.
I contacted my niece, Joanne and asked her for the contact details of Bibaa and Nicole's friends. She sent out a message on Facebook and asked the ones who were at the party to call me.
I was aware that family and friends had launched their own search party and they were going to go back to the park where the birthday party had been held.
Nina told me that she had found a pair of Bibaa's glasses.
At that point, I was just thinking Bibaa must have dropped her glasses but I was still very concerned that we'd had no contact from either of them.
I didn't allow myself to think of the worst, in that situation, you can't, you just go into mum mode.
Adam rang me and told me they had found a knife.
I was on the phone to my ex CID friend and he told me to tell them to get off the crime scene. That was when it hit me that something very serious was happening.
I was sat in my living room at home when Adam called me again, he said 'Mina I'm going to need you to sit down… We've found them, they've gone.'
I instantly fell to my knees and began screaming, screaming and screaming. I sobbed for ages, I have no idea how long for, I lost all concept of time… I was all alone.
No one expects their children to die before them but to have two out of three of your children to be murdered on the same night is just incomprehensible.
As a person of faith, a follower of Christ, losing two of my girls in this way could have been enough to shake a person's faith. Fortunately it didn't.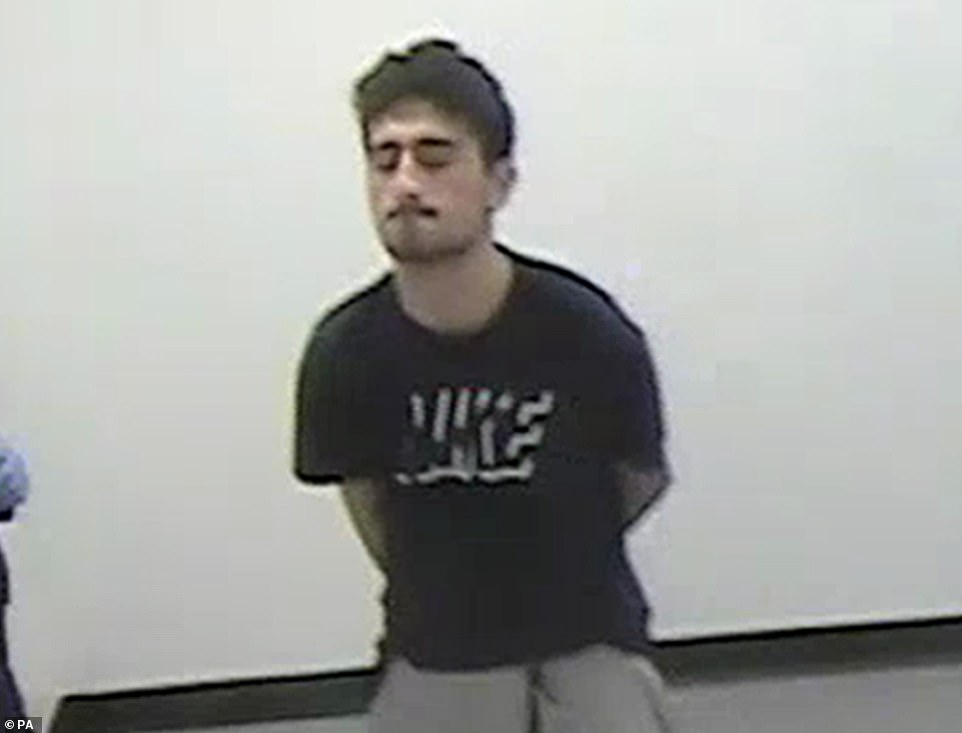 You never want to imagine how the girls looked. I was so worried about Adam, he can't unsee what he saw that day.
We visited Adam and his family around the time of us planning the funeral. He was inconsolable.
When I saw him, he was skin and bone. I knew he wasn't sleeping and I was very concerned about his welfare.
Our family's grief was further compounded by the cordon officers who will now be known as despicable 1 and 2, any inner strength I had reserved had been torn away.
When we were told they had found somebody, the relief was huge. That was because no other family would have to suffer the way we have because he wouldn't be able to do it again.
I didn't leave my house for months, I couldn't go outside the front door. Fear of the press, following the mass intrusion, I couldn't bear people talking about our girls in such a way.
We now have a ring doorbell so we can vet any visitors. Journalists were knocking on our neighbours doors, it was very distressing.
The things we have been subjected to, the level of detail has been horrific.
To hear that our girls were dragged along the grass so their clothes were pulled up the placed in some kind of macabre position, it makes you think that this is a person who actually doesn't have a heart.
There can be no connection with humanity. I understand poor upbringing, greed, I taught boys at secondary school and out of thousands of boys I have taught, I have never come across such evil.
When I learned about the defendant's pact with the demon, at that point I felt my spiritual faith take hold of the situation.
I am a priest in the Church of England and one of my roles was to work with people delving into the occult and clearing houses of evil presence
When the prosecution Counsel gave his closing speech, talking the jury through the last few minutes of our girls lives and hearing that Nikki had fought back so courageously, and even while she was dying she was being stabbed in her legs, I think that was the hardest thing to hear and I think that will disturb me for the rest of my life.
There is no medication that can stop this pain. I have lost my first born and my baby, they have gone.
The hardest thing is that when their sister, my daughter Monique, looks at me she sees them and when I look at her I see them.
When she came over from Holland to visit, they would all be there with us and now we will never have that family time again, those precious times stolen from us.
What isn't missed is the tiniest of details that often bring the most pain.
I can never look at an ash tree without seeing my dead girls in my minds eye. I was told that in Nikki's hand was a little bit of ash tree branch, presumably from when she was fighting for her life from the monster who was attacking her.
When we are driving, at any given moment we can pass a wooded area with ash trees and I burst into uncontrollable tears in the car.
Olcay Sapanoglu, from the CPS, said:
Nicole Smallman and Bibaa Henry were loving sisters who adored each other and had a real zest for life.
But their lives were unexpectedly and cruelly cut short in the most horrific of ways as they celebrated a birthday together.
Danyal Hussein targeted them – two women in the dark.
His actions were part of an absurd and twisted deal he thought he was making with a demon – and he executed his part of the deal with shocking savagery.
His victims stood no chance. He had come prepared to 'sacrifice' women.
The prosecution case included CCTV evidence and strong scientific analysis of DNA and blood found at the scene which linked to Hussein.
Hussein has shown no remorse throughout these proceedings. He has consistently denied being the person caught on CCTV making his way to and from the park or being the person buying the murder weapon at an Asda supermarket.
The deaths of Ms Henry and Ms Smallman have devastated their loved ones and left a local community reeling. Our thoughts remain with all those affected.
Just an utterly devastating story and gut-wrenching to know this could've been prevented if someone had recognised what a danger this kid was beforehand. Then again there's no way anyone could have really seen this coming, and how could anyone have suspected his motivation was a deal with the devil that he believed would grant him unbelievable wealth and power.
Clearly this is someone who is seriously mentally ill and deluded, and although Daniel's school friends described him as 'strange' and 'awkward around women', not one of them expected he would be capable of something like this either.
RIP to the victims and thoughts with their friends and family – no doubt justice, to some extent, will be served through the courts.
To watch a satanic Russian teen who murdered his sister try (and fail) to escape during a court appearance, click HERE.