The evolution of Sam Smith continues, with the non-binary singer now entering the phase of his career when he simulates being pxssed and jizzed on while wearing a white corset with Nicorette patches (?) on his nipples. Check out the controversial new video for 'I'm Not Here To Make Friends' below:
As you might expect, many people are outraged over this video and the idea of young children watching it, with YouTube not applying any age restrictions to it. Others, meanwhile, are celebrating the video as huge W for the queer and body positivity types. Here's some of the reaction:
I have just watched a clip of the new Sam Smith video I am no prude but it is disgusting. Children are being exposed to things like that it is wrong on so many levels.

— Craig's Mum 3 (@Elizabe13014545) January 29, 2023
sam smith looked disgusting – nipples protruding – in his white corset at the piss orgy. Very very disrespectful. pic.twitter.com/UVBGLBVW3K

— pagliacci the hater 🌞 (@Slatzism) January 28, 2023
Sam Smith is actually a walking, breathing fetish billboard now. His vulgarity and attention seeking is hitting new levels. He's a famous AGP being pushed by the media. It's sick. It's depraved. It doesn't belong in the mainstream.

— Katherine Montegue. (@Krat0s0fsparta) January 28, 2023
Watched the Sam Smith video. Struggling to see what the outrage is about. No more suggestive than most pop videos.

— Chris (@gillesofftheweb) January 29, 2023
All this Sam Smith ridicule just proves that heterosexual, cis people don't want queer people being visibly queer in public: "I'm fine with you being gay, just don't show it".
And you know what? F*ck that.

— Thomas Willett (@ThomasWillett9) January 29, 2023
It's okay not to be a fan of Sam Smith. I'm not. But complaining about a queer man being gender nonconforming and hypersexual when you never complain about straight men and women doing and being the same really shows your own prejudice

— Skylar Baker-Jordan (@SkylarJordan) January 28, 2023
I suppose it's true that Beyoncé or J-Lo or Harry Styles could make a video like this and hardly anyone would complain, so should we just file this one under 'if you don't like it, move on'? I guess so but at the same time let's not get it twisted; this is the exact sort of criticism and publicity Sam Smith will have wanted and expected by putting this video out.
In fact I'm pretty sure someone like Madonna got a similar amount of stick for her work back in the day, but eventually those barriers were broken down and overtly sexual music videos became commonplace. Still, should these sort of music videos come with an age restriction option on YouTube, or should it be up to the parent to monitor everything their child does on the internet? Not sure Sam Smith is too bothered tbh. Dude's having a ball!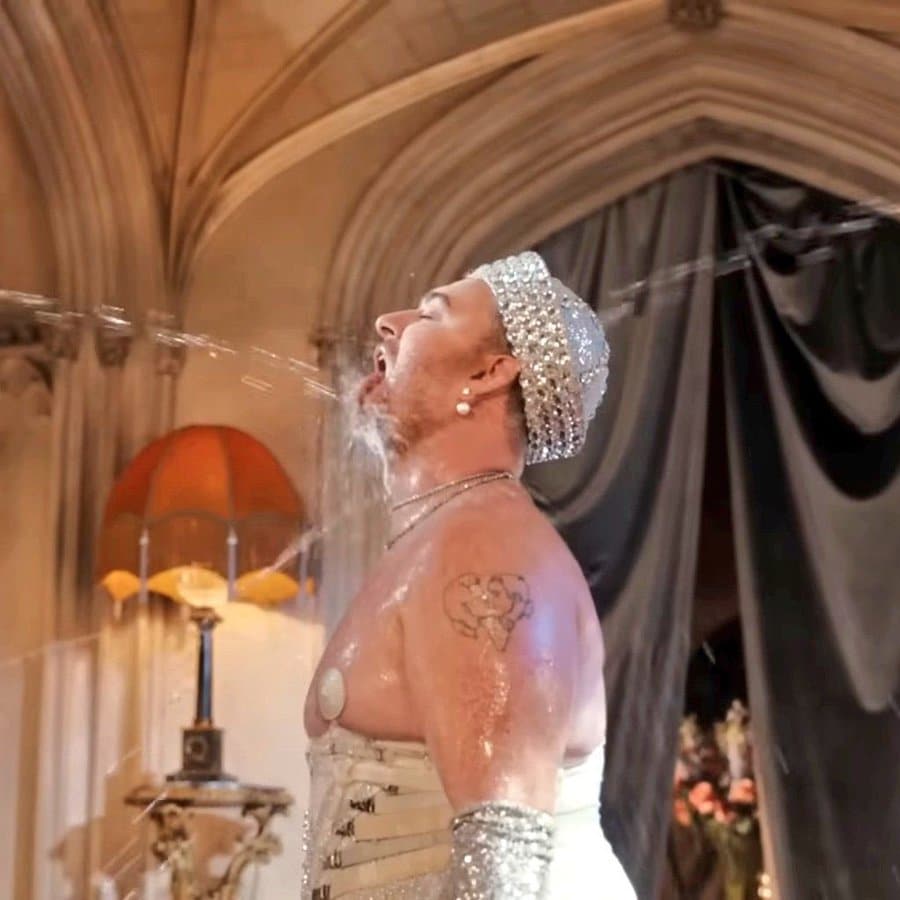 For the new tattoo Sam Smith got to 'reflect' their non-binary identity, click HERE.