Remember back in the second lockdown in November/December and there was a story about a salon up in Oakenshaw invoking the Magna Carta to stay open? Well, it turns out that they're at it again in the third lockdown. If it ain't broke don't fix it I guess.
Featured Image VIA
Siobhan Quinn has already racked up several fines totalling £17,000 and not paid them, but her recent social media posts have indicated that she's planning on re-opening her business on January 30th in what she's terming #TheGreatOpening. She says in the comments that she's planning on opening on that date regardless of what the government is saying that she has to do:
View this post on Instagram
View this post on Instagram
View this post on Instagram
View this post on Instagram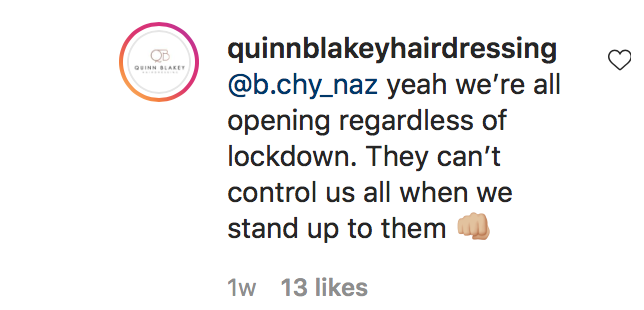 Well that's interesting isn't it? Apparently a bunch of other businesses have started using the #TheGreatOpening ahead of their own plans to re-open this Saturday, but it's unclear how many of them there are actually involved as Quinn Blakey Hairdressing hardly has a massive social media following.
Maybe that doesn't matter though when something as big as this is potentially happening?/ Or maybe they're just all communicating via Parler and not Instagram as it turns out that Quinn is (unsurprisingly) a massive Trumper? I guess we'll see what happens this coming Saturday, but rest assured it will be stupid whatever goes down.
For more of the same, check out this Karen getting kicked out of a salon after hitting a hairdresser during an argument. Hopefully this isn't happening at Quinn Blakey Hairdressing at the weekend.