I had kind of forgotten that Borat had even existed because his more movie came out, but Sacha Baron Cohen has decided to continue the resurrection of the character by taking aim at both Kanye West and Donald Trump whilst presenting an award to U2 of all people.
Featured Image VIA
Cohen was appearing at The White House to give a tribute to U2 at the prestigious Kennedy Center Honours which recognises excellence in the arts. The ceremony was attended by President Joe Biden and his wife Jill as well as countless other celebrities, with Cohen taking the opportunity to talk about and make fun of some of the current issues at this time.
Here's what Borat had to say (sadly – and strangely – there doesn't seem to be a video at this point):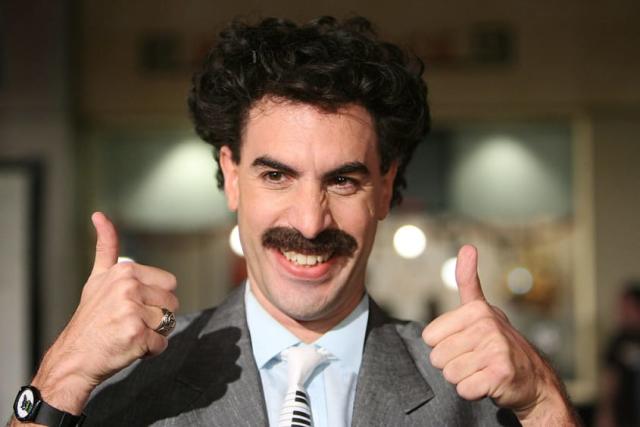 Before I proceed, I will say I am very upset about the antisemitism in US and A.

It not fair. Kazakhstan is No 1 Jew-crushing nation. Stop stealing our hobby. Stop the steal! Stop the steal!.

Your Kanye, he tried to move to Kazakhstan and even changed his name to Kazakhstanye West. But we said: No, he too antisemitic, even for us.

And as for you Mr President, where has your blown-ass big belly gone? And your pretty orange skin without fail.

I see you have a new wife. Whoa whoa, whooo wha! She is very erotic.

My parents have sent me a text about Me Too in the Kazakh language.

It translates to mean 'Please remove your wretched album from my new iPhone 6′.
Lol those guys are never going to live that one down are they? And rightly so. Assholes.
Sounds like a pretty funny skit from Borat/Cohen to be fair, but I'm probably more surprised that there was a massive ceremony honouring the achievements of U2 at The White House in the first place. Aren't people bored of them/over that already? Probably haven't made a good record for about thirty years.
For more of the same, check out what the director of 'Borat' had to say about that scene with Rudy Giuliani. You know the one I mean.