Following on from yesterday's post about Glen Johnson being an idiot on twitter, another one of his Liverpool teammate's has decided to follow suit and perhaps be even more of a clown via the social network platform.
After yesterday's game against Manchester United – which Liverpool lost via a controversial penalty decision in the first minute and had Steven Gerrard sent off under equally dubious circumstances – Babel tweeted a picture of referee Howard Webb in a Man Utd strip. Looks like someone has been busy on MS Paint: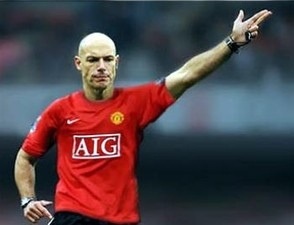 As with Glen Johnson yesterday, people soon began to complain about Babel's tweets and he was forced to send a grovelling apology: 'My apology if they take my posted pic seriously. This is just a emotional reaction after losing an important game. Sorry Howard Webb!'. The FA has also gotten wind of the situation and promised a 'full investigation'. Quite what needs to be investigated about a player posting stuff on his twitter remains to be seen though – maybe the FA should spend more time investigating the performances of referees and then stuff like this wouldn't happen!
Babel himself though predictably did nothing to help his case and only succeeded in further developing his nationally perceived image as an idiot by sending a bunch more dumb tweets regarding this situation. Here are some of the best:
'#TwitPolice is gonna put me in #Twitterjail after 12, dont know how long dat will be'
'Hope i can wear my own clothes in #Twitterjail'
'I have 2 be careful though, can't drop the soap in #Twitterjail'
'* Getting Handcuffs on *'
'#FreeRyanBabel'
Maybe if he spent as much time training as he did tweeting he might be able to get into the shittest team in Liverpool history. Or maybe get a bit better at rapping at least. What a clown.
httpv://www.youtube.com/watch?v=b_4LmwmQqrA