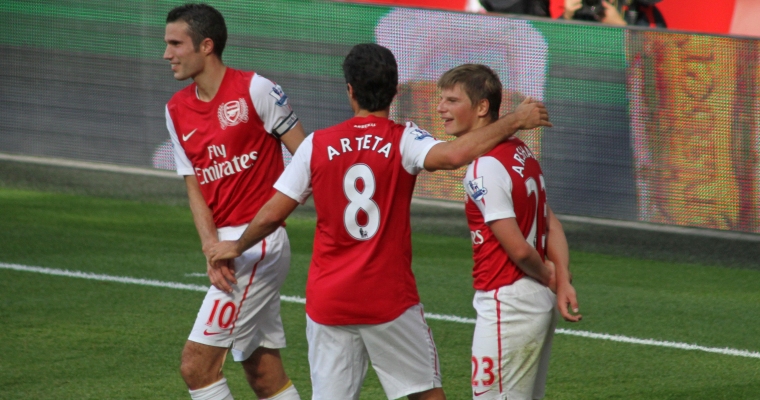 It's that time of the season again, the business end, squeaky bum time, the crunch. We have had a hotly contested Premiership season filled with the usual array of wonder goals, upsets, scandals and the always controversial Mario Balotelli.
The PFA Player of the Year awards have been announced, and Robin Van Persie was unsurprisingly announced last night as the winner. He beat Wayne Rooney, Scott Parker and the Manchester City trio of Sergio Aguero, David Silva and Joe Hart to the much sought after accolade. There seems to be an awful trend amongst the awards given out at the end of the season in football. Year after year players from the 'big' clubs are nominated as the PFA Player of the Year, I mean thats logical isn't it? These are the players that are scoring the goals (and girls), grabbing all the headlines (not always for the right reasons) and driving their team on to cup success (sorry RVP).
Looking at the six nominees for the award this year, it is clear to see that these are all top class players. Players that have had storming seasons and for this they deserve all the respect in the world. However, surely a players attitude both on and off the pitch should be accounted for?
RVP is certainly an interesting case. One of the darkest moments of his career occurred a year after his move to England. In June of 2005 he was in Rotterdam with the Dutch national team and was arrested on suspicion of rape, he was held in solitary confinement for fourteen days before being released without charge. He remained under suspicion until the case was eventually thrown out by the Dutch Public Prosecution Service, due to a lack of evidence. Despite this he admitted to sleeping with the accuser which came as no surprise to anyone, and makes me think there was probably some very unique evidence all over her chest. Still, other than that is off field antics seem to be non existent since he signed for Arsenal. It's on the pitch though where his demeanour needs to be examined.
Undoubtedly having the season of his life, despite playing in an Arsenal team that has suffered with the loss of key players, injuries and a manager that can't stop buying wonderkids he found on Football Manager. Yet despite the evidence, should he really have been voted for by so many of his peers?
Of course Arsenal fans, fellow players and pundits alike are saying that he is showing passion, grit and determination, something that has arguably been missing at Arsenal since….they moved from Highbury. Though this may be the case, it can't be ignored that he has no idea about fair play, manners and being gracious in defeat (though you would think he would have got used to the latter in recent years). These are just some of the basic qualities expected of people today, especially of someone who is in the public eye and a role model to many.
Against Newcastle he antagonised the keeper Tim Krul (his international teammate) throughout the match and when Arsenal snatched a very late goal he proceeded to goad the dutch stopper into a reaction. The reality is that Krul showed a maturity that's lacking in Van Persie's Arsenal (sorry, couldn't resist) and you imagine that it could be a little tense in the Dutch camp come the Euros this summer.
Again, last Monday night as Wigan surprised everyone but themselves and beat Arsenal in their own back yard, RVP clashed with opposition captain Gary Caldwell. Then at the end of the game was seen to be refusing his handshake and behaving like a little bitch.
This sort of behaviour or 'gamesmanship', is totally unacceptable. If FIFA, UEFA and the FA want to stamp out other issues in the game such as racism, homophobia and diving (hot topic of the week thanks to Ashley Young) then surely one place to start would be instilling the very basic premise of fair play.
For this to work, then the players themselves have to take a stand and not bow to pressure from the public or within their clubs. Someone should tell Gary Caldwell about this too as despite being on the receiving end of Van Persie's actions on Monday, said "I actually voted for him for player of the year and I'm sure he will win that." You get the feeling that players are almost as in awe of the bigger stars around them as if they were giddy school children. It's time to man up and set an example.
Of course their are others that could compete for the accolade (see Carlos Tevez/ Luis Suarez and Mario Balotelli) but in this writer's opinion RVP is number one for P(etulant) F(ecking) A(rsehole) Player of the Year.