A Russian adult model/porn star is in hot water after shooting a scene titled 'I Jerking off my Guide in the Mountains (POV)' atop the sacred Mount Batur in Bali, Indonesia.
The video had in fact been uploaded a year ago and hit 1.2 million views before it was removed, after Balinese locals got wind of it and kicked up a fuss. It purported to show Mihanika69 giving a man (also a foreigner) a handjob, followed by a blowie.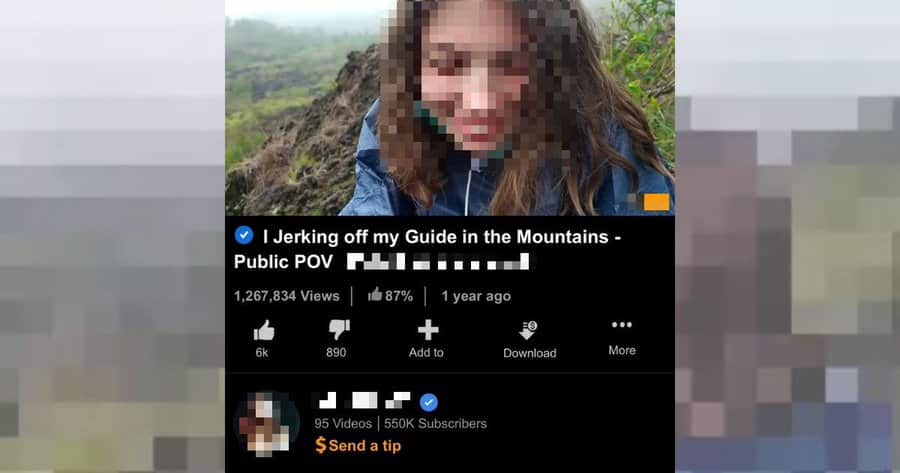 Bangli precinct chief Gusti Agung Dhana Aryawan confirmed (via Cononuts):
Our officer found the location, specifically along the hiking trail of Mount Batur, a bit above Pasar Agung Temple.
Luckily for Mihanika, she's probably a long way away from Bali by now. Otherwise she'd be looking at a public indecency charge which in Indonesia carries a maximum prison sentence of two years and eight months in prison.
This is the model/porn star in question…
View this post on Instagram
View this post on Instagram
View this post on Instagram
What's weird is that Mihanika69 has only made 13 posts on Instagram and has 231 followers, which is pretty poor going for a Russian porn star. Especially one that's filmed content on top of a sacred mountain in Bali! What's a girl gotta do to get an Instagram following/social media presence these days?
Either way, it's a shame the religious folk over in Bali couldn't just enjoy the scene like 1.2 million others did, or at least give us a heads up so we could have watched it before it was taken down. Yeah OK you need to be respectful of other cultures and maybe it's a bit naughty to film a handjob video at a holy location in a foreign land, but it's also a shame this kind of thing can't unite different cultures instead of divide them.
Did Mihanika and her co-star even know that the mountain was sacred? Who's to say. If there aren't any signs up in English or Russian making that clear then maybe that's on the Balinese people. I'm sure she'd have been happy to choose another tourist location or hiking trail to shoot her porn film if she'd have known. Just saying there must be a compromise here that would keep everybody happy. Get on it, Indonesia.
For the Iranian pop star who is in deep trouble after porn star Alexis Texas featured in his music video, click HERE. Whoops.