It's been a while since we've heard from one of my top contenders for Man Of The Year 2020 Rudy Giuliani, but here he is again at the centre of another ridiculous story.
Featured Image VIA 
I'm sure you'll all remember Rudy from his desperate attempts to prove that Joe Biden had stolen the election from Donald Trump through fraudulent ballots and I'm sure you'll all remember that at the time it was roundly ridiculed for being a completely baseless claim. Turns out now that this is coming back to bite Rudy in the ass after Dominion Voting Systems have decided to sue him for $1.3 billion for defamation after he claimed that their tabulation machines were programmed to flip votes for Biden.
There was absolutely no evidence of this, so it looks like Rudy is in quite the hole. He doesn't seem that bothered though, dropping this official statement: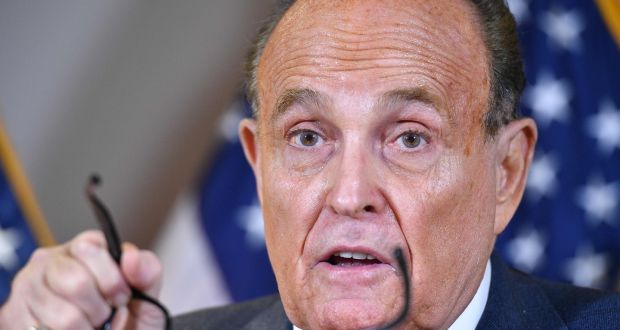 Dominion's defamation lawsuit for $1.3B will allow me to investigate their history, finances, and practices fully and completely. The amount being asked for is, quite obviously, intended to frighten people of faint heart.

It is another act of intimidation by the hate-filled left-wing to wipe out and censor the exercise of free speech, as well as the ability of lawyers to defend their clients vigorously. As such, we will investigate a countersuit against them for violating these Constitutional rights.
Oooh that sounds kind of scary and boring and very 'legal', but he also appeared on his 'Chat with the Mayor' program on WABC saying his usual dumb bullshit:
What do you think I am, some kind of jackass? That's intended to frighten me, you want to frighten me. You want to scare me, like you have some of these companies and stations that have gone ahead and kissed your you-know-what. Because they're afraid of you.
Well, I tell you I'm a crazy guy, I really am, I'm just really crazy So not only haven't you scared me, you've actually given me something that I couldn't get through the censorship that's been set up so nobody can see your machines.
Guy literally sounds like he's demented or senile doesn't he? Hopefully this manages to play out before he dies of old age so we can see him go to jail or have to pay back over a billion dollars. Or both – that would be so funny.
For more of the same, check out when Rudy got filmed with that teenage girl from Borat. Guy is a creep.