The original Ronaldo had a big reputation for being a party animal and this was only accentuated by his massive weight gain following his retirement from the game. It turns out that his son is no different.
Despite only being 14 years old, Ronald (yeah that's really his name) is 1.85m tall and enjoys a job working as a DJ in a nightclub. Being Ronaldo's son has a few perks over in Brazil eh, and Ronald isn't afraid to take advantage of them.
These include being able to be an absolute player by taking pictures of yourself making out with a super hot 27 year old kindergarten teacher named Lu Bernardi at the nightclub you work as a DJ at. The controversy has taken Brazil by storm, and matters haven't exactly been helped by the fact that Bernardi has confirmed the whole thing was real, although it wasn't quite as straightforward as it seemed: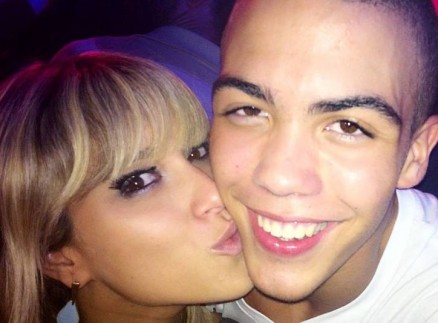 I swear I did not know. When we met we were in a club, and he was taller than everyone there. How could you think that boy 1.85m tall was underage?

He lied and said he was 18. I swear his age did not cross my mind. He had good conversation, he was not immature.
Well there you have it – all you need is to be tall and have some good chat and then you'll be picking up girls 13 years older than you when you've barely sprouted pubes. I suppose Ronald has been reading the Sick Chirpse guide to chirpsing eh?
I'm sure this won't be the last we hear of this troublesome little tyke given he's already getting into shit like this at the age of 14.