Back in October, WWE champion Roman Reigns walked into the ring on RAW and relinquished his title, shocking everyone by announcing he had leukaemia (he'd been battling it for 11 years in fact), and would be taking time off to deal with it:
Featured Image VIA
It was such a surprising and real moment that the crowd that usually boos him every week actually gave him a warm reception and seemed genuinely taken back by the news.
Well, the other night, Roman Reigns returned to the ring for the first time since October 2018 to give a positive update – he had kicked leukaemia's ass and would be returning to the ring ASAP:
Naturally, being the cynical, conspiracy-obsessed society we are, many people were questioning whether Roman Reigns had leukaemia at all: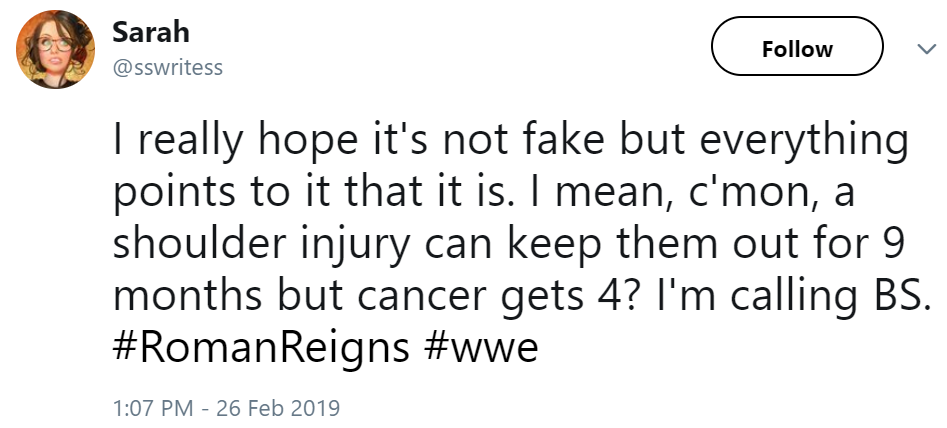 The main theory seems to be that WWE had tried everything to get the fans to support Roman Reigns, and nothing was working. So they made up the whole cancer story with the idea that if pro wrestling fans can't get behind a character who they believe is battling leukaemia IRL, then absolutely nothing else would work.
Fortunately (well, unfortunately), Roman Reigns's leukaemia battle appears to be legit, and Leukaemia Care UK seem to think so too: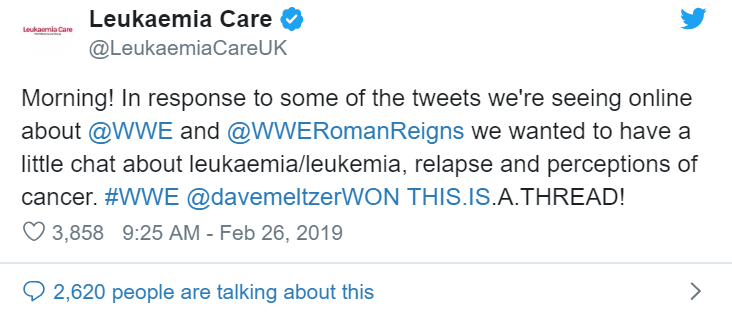 They went on to explain:
Firstly, incredible news about Roman Reigns. Relapse is a scary reality for all leukaemia patients. Either fear of your cancer returning or having to face treatment for relapse. It's great to hear some positive news from a leukaemia patient.

The tweets we are seeing mainly centre around the idea of what a cancer patient should look like. 'How can he have hair?' 'How can he have not lost weight?' 'Why doesn't he look like a cancer patient?'

We're going to weigh in here with some leukaemia information. Back to basics. Leukaemia is a cancer. It affects people of all ages. There are four main types of cancer: ALL, AML, CLL and CML. However, there are other types and subtypes. LEUKAEMIA IS COMPLICATED!

The different types are key. Acute leukaemias are aggressive and need aggressive treatment to save a patient. Chronic leukaemias are incurable but treatable.

DON'T FORGET – We do not KNOW what type of leukaemia he has. Therefore, NONE of us are in a position to question his treatment, how he should look etc.

Remember, everything in life isn't a work.
Nice insider wrestling term at the end there from whoever runs their Twitter account.
So yeah, it would be pretty outrageous if WWE had faked the whole thing and they would leave themselves open to a massive scandal if that were the case. So I doubt even Vince McMahon is stupid/crazy enough to come up with an idea like that.
No doubt Roman's cousin, The Rock, will be pleased to hear the news.