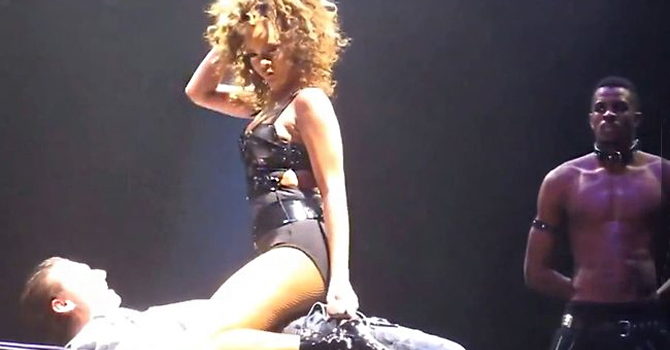 No one knows what to expect from Rihanna nowadays. In between making up, breaking up and getting a beat down from Chris Brown, receiving racist tweets from Amanda Bynes and skinning up on her bodyguard's head, she does do the occasional gig.
☛ Next: Vin Diesel Sings 'Stay' By Rihanna

Only a week or so after one of her fans contracted herpes from an unsanitised 'RiRi Woo' lipstick being applied at a concert in Brooklyn, NY, Rihanna decided to give something back to her fans, well one fan actually.
While performing in Holland, Rihanna pulled one audience member out from the crowd and gave him a more private show. Now it may not be out of the ordinary for singers to get people up on stage and serenade them or even get them to sing a little duet but what Rihanna decided to do is something the likes of Barry Manilow wouldn't even dream of (well…). After toying with the male fans desperately stretching to try and be 'the chosen one', she picks her man. He looks happy enough singing along before being pushed down, straddled and ridden like a Blackpool donkey, getting a cheeky touch of her boob before they disappear below the stage.
☛ Next: Rihanna Hides From Naked Man On Specially Chartered Plane
Now I don't know the reason for the raunchy dance, probably because there is no reason but I'm sure the guy who got molested doesn't care. It seems Rihanna's concerts are getting just as unpredictable as her personal life and I'm sure there's a whole lot more crazy shit to come. With the chance of herpes and a lap dance already on offer with Rihanna Roulette, I wonder what her next gig has in store.
[yframe url='http://www.youtube.com/watch?v=L9Lz799d9CE']