It's well known that 'Game Of Thrones' was the most popular television show of the 00s, even if the ending left a little to be desired, but the measures that HBO went to in order to avoid spoilers have to be read to be believed.
Featured Image VIA 
Obviously fans were completely obsessed with the show and were desperate for any tidbits that might give them clues about what was going to happen in the future and it seems like HBO were determined to prevent any info from getting out – spending what sounds like millions of dollars in the process. Isaac Hempsted-Wright (Brann Stark) was speaking to news.come.au when he revealed the crazy measures that the production team implemented: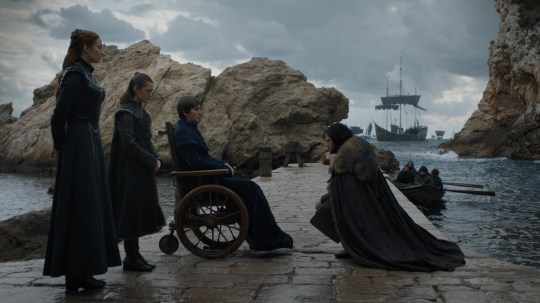 It was ridiculous, the security and secrecy.

When we shot in Dubrovnik for that scene where we're saying goodbye to Jon Snow, I've never experienced anything like that, it was like being a secret agent.

We came into the country on a chartered flight so nobody would see us, we stayed in this hotel and they booked out the entire hotel just for us.

We weren't allowed to go out, we couldn't walk outside.

On that day, HBO rented out every single apartment and every single hotel room that could possibly overlook where we were shooting,' he continued. 'We had coast guards patrolling just outside in the water to check no boats were coming by.

When we were coming in and out of cars we had to be covered in coats, and when we flew back we were the last people on the flight and we had to sneak in.

It was really amazing that people loved this story so much and were so desperate to get any nugget of information.

You had a pinch yourself moment every day.
That's a lot of effort isn't it? Shame that they didn't put that much effort into actually making the scripts good so that everyone wasn't pissed off by the ending of their show, but I guess that would be too much to ask for hey? Nuts to think the kind of money they have behind this stuff though isn't it?
For more of the same, check out this supercut of 'Game Of Thrones' actors talking about how pissed off they are with season 8. Didn't go down well at all anywhere it seems.