The aftermath of the Grenfell Tower disaster continues to reverberate around the country and probably will do for some time, and the latest news is actually pretty good for the former residents as it turns out that the government has devised a plan to rehouse them. However, not everyone is happy about it.
Featured Image VIA
It was announced yesterday that 68 flats would be made available to the families left homeless by the blaze in Kensington Row. The homes were purchased by the City of London Corporation for around £10 million in a cut-down deal brokered by the Homes and Communities Agency (HCA). Victims will be rehoused in two 'affordable housing' blocks at the site that will be nowhere near as nice as the luxury apartments that are for sale on the site. They're described as 'modern' but not luxury.
You would have thought that everyone would be happy that these people who literally lost everything in the blaze were finally getting some good news and a place to live, but it turns out that the snooty Kensington residents are actually pretty pissed off that these people are coming to live with them. There's been a massive negative reaction amongst the neighbourhood, which is perhaps best summed up in this quote from a woman in her 60s named Anna who has lived in the area for the past 40 years, just across the road from where the Grenfell Tower victims will be situated (you can see the set up in the picture below):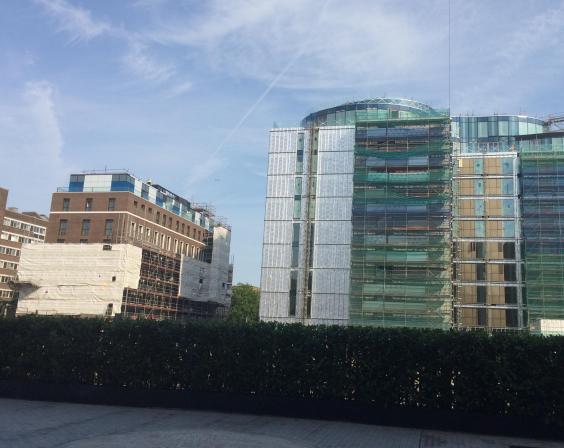 North Kensington is not this Kensington. They should be in a place where they are happy, but not here. I don't want them here.

In the circumstances, they can't all expect to be rehoused in these parts of London. Someone has to pay that money, if they can afford to pay the rent there they should pay rent somewhere else.
I mean wow. These people have literally had their whole lives destroyed and are lucky to be alive, but this bitch is still moaning about them living in the same area as her. I really don't get how people can be so heartless? Absolutely awful reaction.
Thankfully not all of the residents were like this and a lot of them were more than happy to welcome the victims into their neighbourhood, but the fact that there were even some people like Anna speaking out really does sum up this whole country and the problems within it right now. Terrible.
For more on Grenfell Tower, check out this resident's conspiracy theory. It adds up.