If you're gonna take the discount price of a house by living on a road with a stupid name, then you might as well be ready for the consequences because you know everyone you ever meet is going to rip you about its name. You knew what you were getting into – just man up and take it.
Featured Image VIA
Unfortunately, this isn't true of the residents of 'Bell End' in Rowley Regis in the West Midlands, as they've had enough of their streets names and the jibes that come with it – usually being referred to as a 'Bell Ender' – and so have launched a petition to try and get the name of the road changed. They so far have 11 signatures.
The petition reads as follows:
As you may be aware, the term Bell End can be seen and used as a rude and/or offensive word.

As well as this, it can affect people and children including children being bullied and teased at school and generally now become a laughing stock as seen very recently on Facebook and other social media sites and it's time for a change.

Further to this, it's one of the rudest road names in England! Feel free to Google and the results will confirm this.

We want the local Sandwell Council to acknowledge our name change request to a new road name and at the very least to a similar name.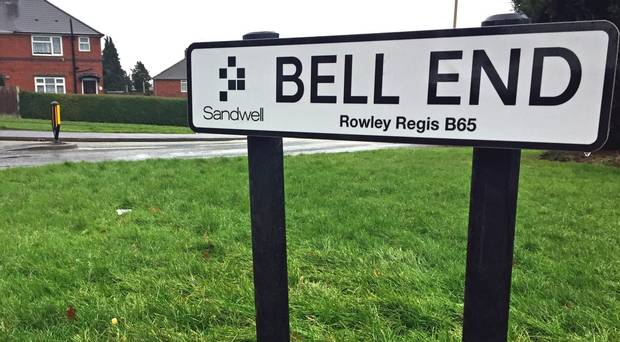 Images VIA
I mean I would say that I felt sorry for them, but as I said before, surely they should have been ready for the consequences of living on a road with such a dumb name. It should really help as well that houses on that road are £60,000 cheaper than the equivalent nearby on a road without a dumb name. Go figure.
At least one resident of the road isn't that bothered about it though, as resident and local councillor Chris Tranter said the following:
I was born here and lived here for 40 years and it doesn't bother me.

You get the odd giggle on the phone, it's quite amusing really.
Yeah, fair play pal. Just roll with the punches and take them as they come, none of this changing names and petition bull, although another local councillor named Barbara Price has promised to take up the issue with other bosses. We'll see what happens I guess.
For more rude road names, check out the ten rudest street names in Britain. Even worse than Bell End.