It's being reported that an amateur footballer over in Argentina returned to the pitch with a gun after being sent off by 48 year old referee César Flores and shot him dead in cold blood. Police are currently searching for the unnamed footballer.
A local police report said the following:
It all happened during the football match. We don't know [exactly what took place], but it appears the player was angry, fetched a gun and killed him.
Featured Image VIA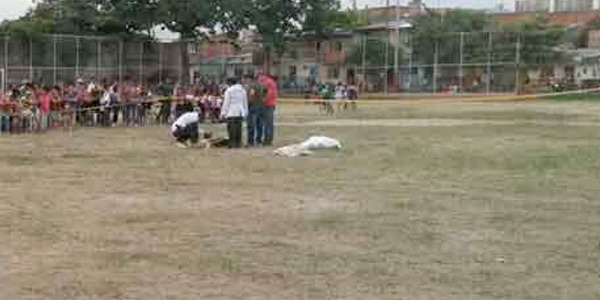 Image VIA 
Apparently the guy had brought his gun to the match (who the hell brings a gun to a football match?), so it was pretty easy for him to retrieve it from his backpack and head back onto the pitch to start shooting. The dude shot Flores three times in the neck, head and chest, so there's no disputing that he knew exactly what he was doing and the result he was hoping to achieve.
Another player named Walter Zarate was also injured in the shooting – which took place in the Cordoba province – but is said to be OK now. There's absolutely no place for violence of this level on a football pitch though, and this unfortunately seems to be an increasingly common occurrence in South American football, as the story from a Brazilian amateur match a couple of years ago, where the referee actually got decapitated by a player he stabbed during a match illustrates.
RIP César Flores.