The internet went into meltdown earlier when Kim Kardashian and Amber Rose both posted a selfie of the two of them together on their separate social media accounts. OMG what was going on – didn't those two hate each other because Amber told the whole world Kanye West liked getting his butthole fingered?
Speculation was rife about just what was going on, and of course celebrity gossip website TMZ managed to get to the bottom of it before anyone else, saying the following:
Our Amber sources say Kim called her Monday afternoon and asked to meet at Kris Jenner's house early that evening. Amber accepted the invite, and the two hashed things out. We're told after a long conversation, they're both good with each other.
Featured Image VIA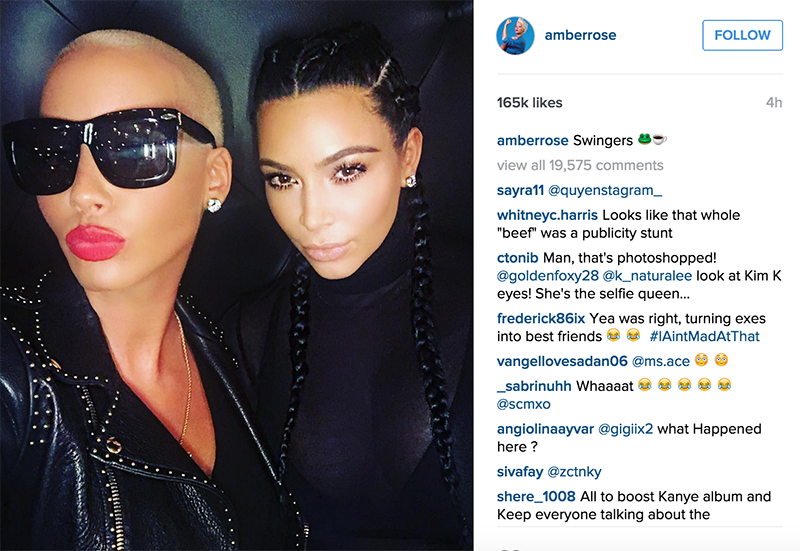 Boring. But I suppose there wasn't really any other explanation after posting a picture of the two of them together was there? I would have liked to have been a fly on the wall in that convo though – I mean what the hell would they even talk about? Whether or not Kanye's sexual preferences should be released to the public? Is that really something people have to debate now?
At least we know that they're all good now. Having said that, apparently after the meeting Amber went out with Kardashian public enemy #1 Blac Chyna – who's currently shacked up with Rob Kardashian, much to the disdain of the rest of the family – so maybe she hasn't stopped her mischief yet.
Frankly, I want some more information about Kanye's butthole to spice this up a bit.