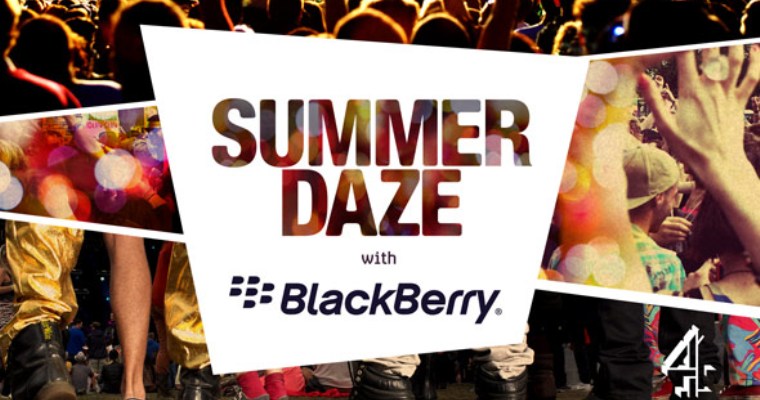 With most of our current reality television shows finished for the solstice, the question on no one's lips is, 'what will fill this 6-week void?' Well luckily Channel 4 has answered this hotly debated uncertainty with the introduction of a new show, Summerdaze. Adding to the long line of 'constructed reality' programming, the music channel has ventured into the wild world of festival stewarding with truly horrific results.
On the surface, the show appears to be a bastardisation of Made in Chelsea (a little googling taught me it was in fact produced by the MiC Team) where Kensington's finest teenagers, who just love the live music experience, go against their intrinsic instinct of being waited on hand and foot and pretend to help out with the day-to-day tasks of a weekend festival. However, many of the kids have attempted to sport hipster-ish garments and thus it gives off the feel of Vice's Dalston Superstars but without the ironic intent.
Upon watching the show for a couple of minutes, I realised that the characters were basically put into two-person groups and then were made (almost certainly at knifepoint) to have terribly clunky conversations with each other. Then occasionally the pair would bump into other couples throughout the episode. Terrible as that may seem for a TV format, it manages to get worse as the forced meetings vary from being slightly gauche to being as awkward as watching your grandparents make out.
A particularly moving scene came when Flora (who's branded as the 'little bit of mischief') can't decide whether she fancies a dude called Osho. That's right, he's called OSHO. This is the kind of douchehole we're dealing with here. Shortly after, Flora is told not to worry about her love interest and is told to just "rock out" during her festival experience. As you see, it's the stuff Chaucer only dreamed of coming up with.
Let's meet the characters:
Sophie
[yframe url='http://www.youtube.com/watch?v=VWXLaNYmFSo&list=UUqn_wAzjOVDs3bTmcCea0Yg&index=5&feature=plcp']
She's marketed as the 'glamour puss' that has allegedly blagged a job at a top fashion magazine even though it is obvious by her plumy voice that she has paid her way in. (I have no proof of this but she's an obvious aristocratic jerk burger and I'm embittered by my own unemployment.)
Will
[yframe url='http://www.youtube.com/watch?v=9TYJldkd_U8&list=UUqn_wAzjOVDs3bTmcCea0Yg&index=2&feature=plcp']
Will is literally the most lacklustre human being the world has ever offered. He literally just stands around, blurts out a set of prepared lines and does so in the most unconvincing of ways. Alas, Flora still wants "to like, get with him and stuff" and thus I think we're to assume he's the show's heartthrob as Channel 4 have labelled him as the guy that 'looks good in a vest.'
Lippi
[yframe url='http://www.youtube.com/watch?v=ucDIixSkNdk&list=UUqn_wAzjOVDs3bTmcCea0Yg&index=1&feature=plcp']
Despite not being a steward, Lippi is one of the show's leading characters and fortunately, his redeeming feature is that he isn't an upper-class wasteman. It seems like he was chucked in the show so people wouldn't complain that only members of the elite were involved. He's a semi-rude boy (evidenced by his snapback cap) whose main aim in life is to be beat-boxer. He's a decent enough guy I guess but at one point during the show he refers to Ed Sheeran as 'Ed Sheezy' which led me to question what self-respecting player would A) consider Ed Sheeran to be a credible artist and B) upon using such moniker not have their organs go into remission due to embarrassment.
Lippi's most notable scene during the first episode is when his mate somehow manages to get him an audience with the ginger folk-rapper artist himself. During the occasion, Lippi spits a beatbox freestyle in front of the Sheermeister and looks impressively underwhelmed. And, if the show couldn't get anymore lame, after the said performance Lippi remarks, "That was MAD, like FULLY CRAZY." Now, unless the definition of 'mad' and 'fully crazy' means 'sitting in a crap caravan whilst a vacant Ed Sheeran stares at a wall out of complete boredom' then I think Lippi doesn't understand basic lexis.
Flora
[yframe url='http://www.youtube.com/watch?v=siulNBz1Yco&list=UUqn_wAzjOVDs3bTmcCea0Yg&index=3&feature=plcp']
The aforementioned mischief maker is probably the worst of the bunch. She's one of those aristocratic 'ya, ya' girls that dresses in that freespirit style in an attempt to not look they were brought up on horse riding and getting fingered by their cousin Henry.
There are other characters in the show that run around, buzzing on the finest of Sloaney cocaine but are too nondescript to have their attributes listed. I recall two of whom having a fascinating discussion on which brand of guy liner they use and then they swap BBMs. Utterly enthralling stuff. If you want to, check out this complete wastehole:
[yframe url='http://www.youtube.com/watch?v=UytAzYvMIaA&list=UUqn_wAzjOVDs3bTmcCea0Yg&index=8&feature=plcp']
To compliment the dreadfulness of the show's dialogue, the first episode is soundtracked by the crustiest of dubstep -the sort of music that cast of Skins would probably think twice about dancing to. Also, at any point in which the poshos aren't working they're usually dancing to this which is so embarrassing you will probably consider wanting to self-harm.
So there you have it: the latest in crap television is a reality show about festival stewarding. So what is next on the reality radar? I don't know but I feel unsettled about what the future holds. For now, if you're into being delivered the purest of cringes then I urge you to stick it on and mong out to its mendacity. If you're not into this idea then I suggest you read a book or something. Or not. I dunno. Go fvck yourself. I'm sorry. See ya!