Although Ray J may be known more for his sex tape with Kim Kardashian than his music, he's actually been in the music business since his teens and grown up around the biggest legends of the scene.
Recently, the younger brother of Brandy spoke to Rhapsody about his experiences growing up – including this nugget involving his discovery that Faith Evans was getting cosy with Biggie Smalls behind Tupac's back…
We walked in one day and Faith was sitting on Pac's lap while Pac was writing a verse. It was like, "What the f*ck is going on?" That was one of the craziest sights, dog. Faith was in Pac's lap. I was like, "What the fuck? I know I'm not? Is that? It can't?" Three weeks later, "Hit 'Em Up" came out. There's a couple of people that came up out of that camp. Bow Wow was in Snoop's camp. Keyshia Cole was always through Death Row in her younger days. I used to see Keyshia all the time in there with Pac. I'm not hating on nobody. I got love for Faith. That
was unbelievable, during the time of the East Coast-West Coast beef.
Well this quote began doing the rounds and #RayJ began trending on Twitter because people surmised that he must've been the one who started the whole Biggie/Tupac and East/West war when he walked in on Biggie and Faith as a spry little 15-year-old…
25 years ago today Tupac drops Hit Em Up

Faith says nothing happened
Snoop's cousin is running around Death Row
He's only 15
He says he saw Faith sitting on Tupac's lap in the studio
Wait a minute ain't that… pic.twitter.com/dOlCWD5mgP

— Steven James (@TheLaunchMag) June 4, 2021
Could it be that a young Ray J went babbling and inadvertently kicked off the Tupac/Biggie beef that evolved into an all-out war and resulted in two of the greatest rappers of all time being assassinated in their primes?
Ray J had more to say about Tupac:
He was just a funny dude. He always cracked jokes on whoever had bad breath or nappy hair. I used to spend more time with Snoop and Suge. [Snoop] used to come pick me up and I'd tell my dad I'm going down the street to do my homework. I would just come back later and pass out.
And Biggie:
I was with Big two days before he died. I smoked two or three blunts with Big. We watched a Lil Kim video. He talked to me about some real shit. He was gonna get on the remix for "Everything That You Want" off my album and then two days later he was dead. He invited me to his hotel. Cease picked me up.

Big was hella-cool. He was talking about how big Lil Kim was gonna be. And that was right when that video came out for "Crush On You." He showed me the first version of that. I walked in [his room at at the Four Seasons] and the nigga had some shorts on and a tank top getting his hair cut. He was just a real nigga.He did some shit on [Brandy's TV show] Moesha. So [his crew] came up like, "Biggie wanna get you high." We sat back and smoked. I got his number. The nigga hit me the next day to come to the hotel. So me and my homey went up there and chilled. I was about 16. The day he died I seen him with Puff. I tried to say what's up to Puff, but Puff didn't see me. Then I seen Big and he was like, 'What's up, my nigga.' I hugged Big and the nigga smelled like soap. That's all I remember. He just smelled fresh like, 'Damn, he a big nigga but he smell like soap.'
Welp, between this and the sex tape with Kim Kardashian which resulted in her becoming one of the most famous women on the planet, it seems Ray J has had quite the influence on popular culture.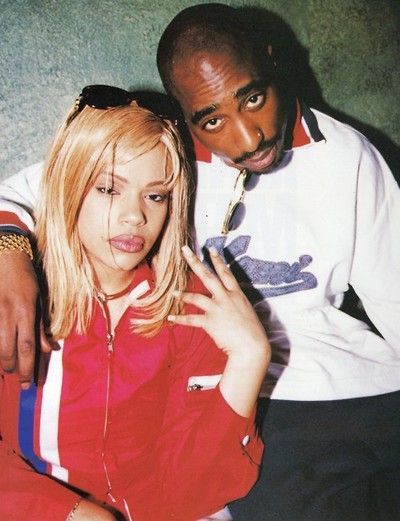 Hanging out with big time rappers at 15, having Snoop Dogg pick him up from school, smoking blunts with Biggie, being the Christopher Columbus of Kim Kardashian's vagina. He may sneakily be one of the most lowkey influential celebrities in the game. Get that man a gold star on the Hollywood walk of fame!
So you're telling me. If Ray J didn't exist, Tupac, biggie would still be alive and Kardashian clan would be no more?
Looks like it's my mission to convince someone's momma to swallow pic.twitter.com/SjznnmBGb2

— Joey 🇬🇭 (@MarxxxistJ) June 4, 2021
For the time Kim Kardashian's daughter asked her 'Mom, why are you famous?', click HERE. Bit awkward.