I think it's fair to say that everyone knows what the catalyst was for Kim Kardashian's rapid rise to fame, which is why 5-year-old North West asking why she's so famous is so awkward. 
Featured Image VIA
First, there was this interaction as the paparazzi circled the family's ride:
The subject was broached again when Kim was on radio this week:
Speaking with Big Boy on Real 92.3 on Thursday, the 37-year-old revealed that her five-year-old daughter North West once asked her, 'Mom, why are you famous?'

Kim was surprised but she had to answer.

'I'm like, "We have a TV show.; we have a TV show." And she was like, "Oh, okay,"' the Keeping Up with the Kardashians star said.

When she was asked, 'Do you think North has more money than us? Like her own?' by the radio host, Kim replied, 'North is good.'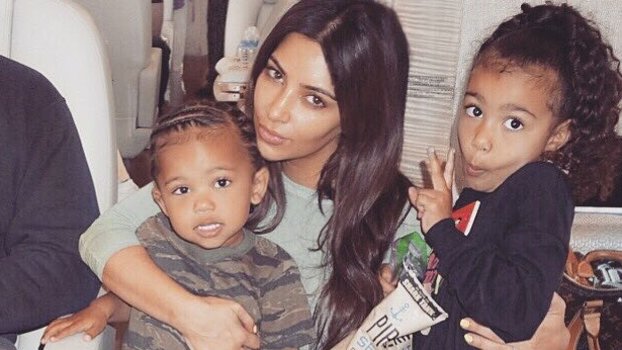 Yep, definitely because of the TV show. Definitely nothing to do with an R&B singer named Ray J and a sex tape that was produced and sold by your grandma Kris Jenner. Nope – just the sheer quality of mum's TV show 'Keeping Up With the Kardashians'.
I wonder if Kim and Kanye are going to sit down with their 3 kids North, Saint & Chicago when they're a little bit older and talk to them about the infamous sex tape. Maybe they'll watch it together? It'll be like having the birds & the bees talk with your kids except it's your own mum talking about how half the world has seen her get shagged on camera. I mean what's the alternative? The kids are eventually going to hear about/find the video on their own and that would be an absolute nightmare for them. Quite the parenting conundrum here.
For the time Kim Kardashian took 6,000 selfies over a 4-day period, click HERE. Hard at work.