Quentin Tarantino vowed as a child to never share a penny with his mother Connie because she apparently discouraged his writing career.
Featured Image VIA
As a 58-year-old man worth $120million (£86m), the writer and director hasn't changed his stance on the matter, and recently explained it was because his mum was 'sarcastic' about his writing dreams.
Quentin told Brian Koppelman's The Moment podcast how he would write screenplays as a child, including a script called Captain Peachfuzz and the Anchovy Bandit when he was 12 years old.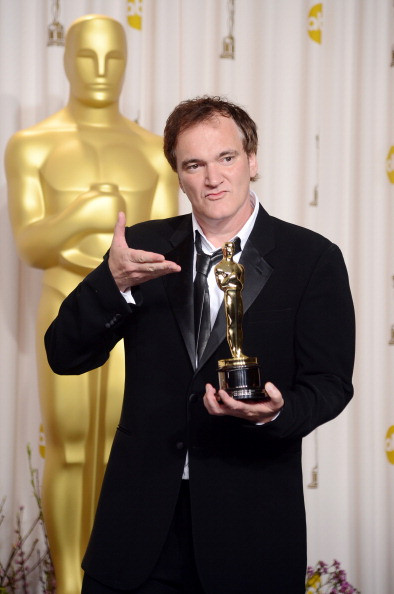 This got him into trouble with his teachers, who 'looked at it as a defiant act of rebellion that I'm doing this instead of my school work', and his mother 'always had a hard time about my scholastic non-ability', as he struggled in all subjects aside from English and history.
On the podcast, he explained:
She was b****ing at me… about that…. and then in the middle of her little tirade, she said, "Oh, and by the way, this little 'writing career,'" with the finger quotes and everything. "This little 'writing career' that you're doing? That s*** is over!"

And when she said that to me in that sarcastic way, I was in my head, and I go, "OK, lady. When I become a successful writer, you will never see one penny from my success. There will be no house for you. There's no vacation for you, no Elvis Cadillac for mommy. You get nothing. Because you said that."
Koppelman asked: 'Did you stick to that?', with Tarantino replying:
Yeah, yeah. I helped her out with a jam with the IRS. But no house. No Cadillac, no house.

There are consequences for your words as you deal with your children, remember there are consequences for your sarcastic tone about what's meaningful to them.
Welp, I guess that's Quentin 1 Mum 0. Although maybe he's being a little bit harsh on her? After all, his mum had him when she was SIXTEEN years old and the pair were soon abandoned by Quentin's dad. I'm sure his mum was trying her best, and while he might've known even back then that writing was his true aspiration, to his mum it just looked like he was slacking in school.
I'm sure there are more details in their relationship that we don't know about, and there are two sides to every story, but I guess it's fitting that Tarantino – the master of revenge movies – would hold an OTT grudge against someone, even if it's his own mum. At least he helped out with her IRS troubles, I suppose.
To watch Tarantino respond to critics of his depiction of Bruce Lee in 'Once Upon A Time in Hollywood' while on Joe Rogan's podcast, click HERE. Exactly the response you'd expect.