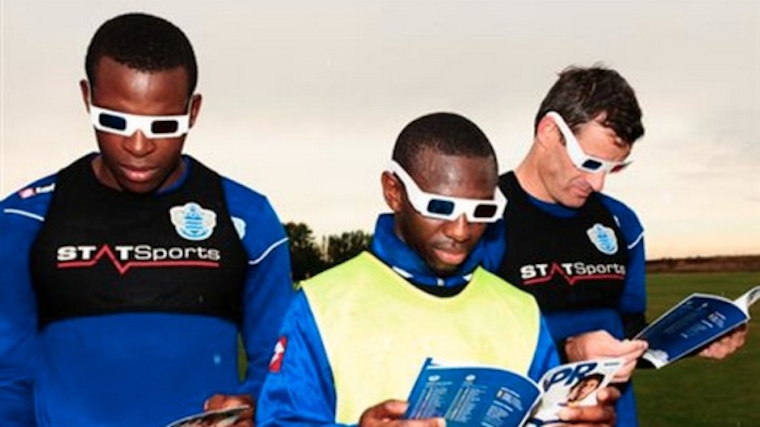 QPR have announced that for their match against Newcastle next week they'll be unveiling a new 3D match programme.  They've stated that this will allow them to enter 'a new dimension' of football coverage. Right. Apparently this has been done before in England but never by a Premier League team so this is big news, and as you can see from the picture above even QPR stars Shaun Wright Philips, Nedum Onouha and Ryan Nelsen are amazed/baffled by it. Millwall are the most notable club to have 'pioneered' this idea before which sort of gives you some idea how terrible an idea it actually is.
I mean how is a 3D programme going to be useful in any way. It's kind of like when they introduced 3D football on the TV – nobody bothers watching it in 3D because it's useless. Like when they advertise it in pubs – 'watch the big match in 3D' – who the hell is gonna go down to the pub and sit there with 3D glasses on looking like a twat, especially when the fact that it's in 3D doesn't even do anything? It's not like when Djibril Cisse hits the ball into row Z it comes flying out of the TV at you in 3D, nothing as cool as that ever happens. All that happens is the players look a bit closer and more realistic. And don't even get me started on most of the movies that come out in 3D.
But what can a football programme offer in 3D? The programme itself is going to be 84 pages long and 75% of that is going to be in 3D. There's also a special Q & A section with Bobby Zamora. Wow, this is almost making me want to buy a ticket and head on down to the game – not only does QPR V West Ham have classic written all over it, but I'll also get to pick up one of these awesome programmes. But seriously other than the Q & A with Bobby Zamora – which admittedly sounds tasty – what is the programme going to offer me that a regular programme won't? Will the Q & A with Bobby Zamora even be in 3D? What else could possibly be in 3D that would be cool in a football programme? I'm seriously perplexed at the options I can't even think of anything that could work in 3D in there, can you?
If anyone's going to the game and wants to pick us up a programme email us at info@sickchirpse.com, I would really be interested in seeing one. Or if you've got any clue as to what 75% of the programme is going to consist of let us know. In the meantime enjoy these pictures of Jamie Mackie and Park Ji Sung enjoying (?) the 3D programme: