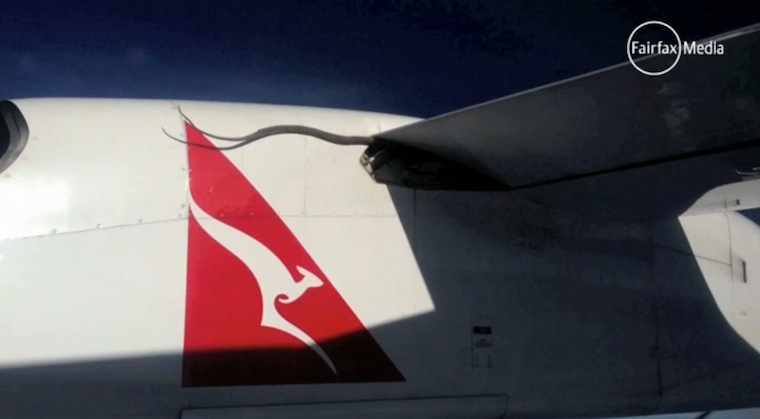 Snakes on a plane just got real people.
If you don't like snakes, and you don't like flying, you should probably avoid watching this video of a snake actually stuck on a plane. Luckily for the passengers though the snake was stuck on part of the wing so there wasn't actually any risk of the snake hurting/killing anyone. Now this wasn't just any snake, this was a 10ft python capable of constricting a fully grown man in a matter of minutes. This was a beast. How it got onto the wing is a bit of a mystery, but Quantas say that it probably climbed aboard through the landing bay and found it's way to the wing.
☛ Read Next: Real Life Snakes On A Plane
Several passengers reported that everyone on the plane was totally calm, and everyone was just completely transfixed on the snake wriggling around on the wing and weren't really too concerned whether there were more snakes on the plane itself. It was a life and death struggle for the beast, who eventually lost the battle mid air. The remains of the snake have not been found.
☛ Watch Next: How To Catch A Python — With Your Right Foot
Here's a video of some dude talking about the snake on the wing of the plane, a couple of short videos and a great photo of the python living it's final adrenaline rushed moments. Hit full-screen and check it:
☛ More: Have Fun Pooping!