Image VIA
A TV crew caught this purple disc-shaped UFO hovering in the sky near a construction site while they were filming a TV show in Lima, Peru, and so far since they filmed it on February 10th there's no explanation for what the thing is:
Witnesses said it was floating around for around 2 hours, but for some reason there's no footage of it leaving the scene. The Peru chapter of the Mutual UFO Network (MUFON) is asking for more witnesses to come forward in case they saw or caught anything on film.
Here's where the UFO was seen in the Miraflores area of Lima, Peru right by the Pacific Ocean: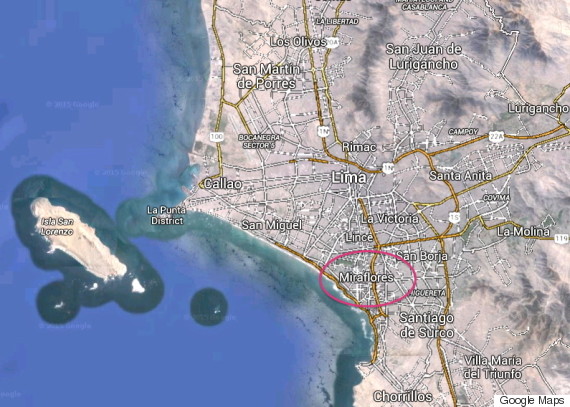 Image VIA
Apparently Peru is a hot spot for UFO activity, but no one has ever reported seeing a purple UFO before. Could there be a crew of fabulous gay aliens on board? Maybe the same ones that are out to get Tom DeLonge? We'll keep you posted.