Let's face it, being a dogsitter is probably the greatest job going. You get to chill in the house, eat snacks, watch TV and hang out with a dog. What's not to love?
Images VIA
Looking after a puppy, on the other hand, is a whole other kettle of fish, as they need your constant attention. Just ask this girl, who left her parents' pup alone for ten minutes, during which time he managed to destroy the entire back garden. Bad dog.
Shannon Biggers, 15, was supposed to be watching energetic pup Bailey yesterday, but got distracted by Snapchat (as you do).
When she came out of her social media trance, she discovered the Dogue de Bordeaux-Staffie cross had torn up her parents' artificial lawn. When they returned, Shannon tried to cover up by saying she attempted to refit the lawn herself, but they were having none of it – especially since mum Natalie had even warned her daughter not to take her eyes off Bailey.
Shannon, from Coventry, said:
Bailey was really pleased with himself.

He was alone for a matter of minutes before I realised he was very quiet.

He's very much a puppy and loves attention. That's where he gets his naughty side from.

He is always up to no good. He loves to rip all my clothes up, let himself out of the front door and we have to chase him round the street for ages. He's very playful.

We can't leave him alone by himself because he will ruin everything.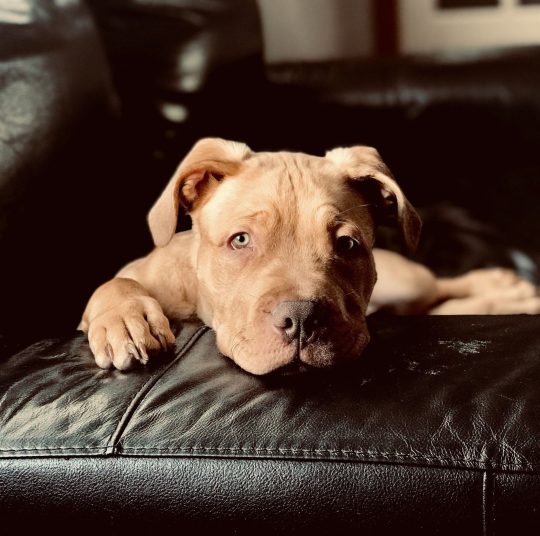 He sounds like quite the handful. Although just one look from those adorable puppy eyes and all was forgiven (until his next naughty outburst).
For more on why puppies are the best creatures (even if they do love to destroy things), check out this rescue pup who offered her blanket to a homeless dog. My heart.