Public displays of affection (PDA) are a controversial subject, with some couples wanting to show the world just how loved up they are by 'eating-face' at every available opportunity, whereas others would only allow such behaviour to happen deep under the covers in a darkened room with a bit of Barry White to set the mood. Having survived Valentines day, news has broken that one determined couple from Thailand didn't care who was watching when they broke the record for the world's longest smooch.
The previous record was set at 32 hours, 7 minutes, and 14 seconds, set in Germany in 2009. When couples started their world record attempt in Thailand, on 13th February, at 6.00 am, they knew they were in it for the long haul. Strict guidelines were set up, with each couple required to stay in their own 1m² space, allowed only to leave for toilets breaks, during which the couples had to remain 'embraced'. Couples were allowed food and drink but it was only to be consumed through straws, whilst keeping their lips locked. If these couples weren't that close to begin with, they certainly would have been by the end.
In the end the winning couple, Ekkachai and Laksana Tiranarat, managed to go at it for 46 hours and 24 minutes, beating the thirteen other couples involved in the kissathon, losing one competing couple just half an hour in when a woman fainted, with other couples quitting after just a matter of hours. The record breaking couple claim that they simply wanted to spread the love.
The Beatles once claimed that money can't buy you love, in this case all their loving certainly brought this couple a load of money. They were awarded with a diamond ring worth £1000 and a cash prize of £2000. Not bad for a few hours of hanky panky!
So next time you get up to a bit of unsavoury saliva swapping, if you're going to do it in public, you may as well go for gold!
If you are up for the challenge, with a willing partner and some breath mints, here are the rules:
1. The kiss must be continuous and the lips must be touching at all times.
2. If the lips part – the couple are immediately disqualified.
3. Contestants must be over the age of consent in the country the event is being held.
4. The couple must be awake at all times.
5. The contestants must stand during the attempt and cannot be propped together by any aids, such as pillows, cushions or people.
6. No rest breaks are allowed.
7. Incontinance pads or adult nappies/diapers are not allowed.
8. Couples must not leave the venue during their attempt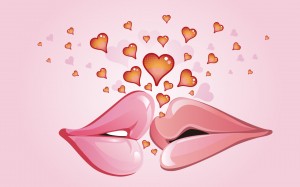 Mwah!