Yesterday we brought you news of the human/goat hybrid that had shockingly been born in Malaysia. We also said that we didn't think it was a sign of the coming apocalypse, but was more likely to be the result of somebody dicking goats over there.
Images VIA 
Turns out that we weren't the only ones thinking this and an official probe has been launched to try and determine just how this happened. This could take anywhere between two weeks and a month to finalise the answer, with Johor State Agriculture and Agro-based Industry committee chairman Ismail Mohamed stating the following:
For now we cannot confirm or deny anything as we have never received such a case before.

We will have to wait for the results and findings to be finalised and that takes somewhere between two weeks and a month.

Research will be conducted on the goat's carcass to find out the reasons behind its human-looking features.

This includes investigating the possibility that the mother goat was violated by a human.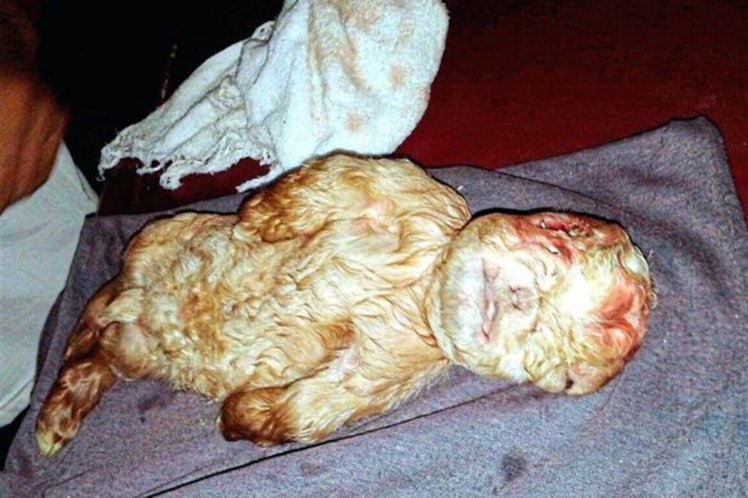 The farmer Ibrahim Basir who found the goat stated it was dead on arrival and didn't have an umbilical cord, which would provide some instant reasons as to why it wasn't actually a goat/human hybrid. Still, Basir has refused to speculate about its origins – maybe because he was responsible for it (just jumping in with that conspiracy theory there) and wants to wait for the authorities to come to a conclusion.
He also admitted that people had offered to buy the corpse off him (what?) but he refused and handed it over for research. Good on him, and that probably does rule him out of being the father. Surely the people trying to buy it off him have to be suspects in that now?
Anyway, we'll keep you informed of how this one turns out but here's 18 hybrid animals you won't believe even exist in the meantime. Not as unbelievable as a goat/human hybrid though, sorry.