In one of the strangest stories to spring from Making A Murderer, it turns out that pro wrestlers may be putting Brendan Dassey's life behind bars in danger.
That's because his brother Brad Dassey has been continuously taking to the internet to try and get pro wrestlers to visit Brendan in jail. You can see this in the Facebook post from Brendan's cousin Carla Chase, which probably shouldn't have been posted in a public forum as it just seems to be calling Brad out, but you know, whatever:
Featured Image VIA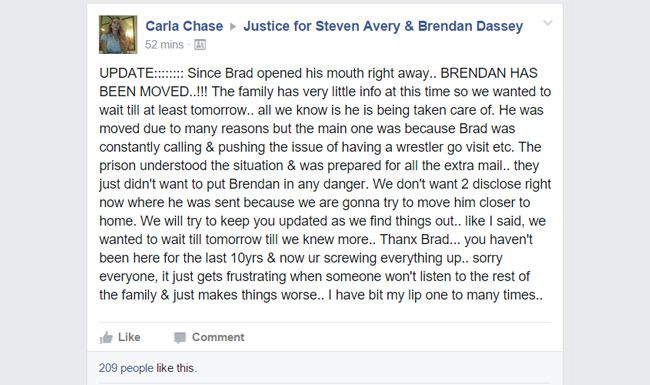 Images VIA
Apparently pro wrestlers going to visit Brendan has put his life in danger – I guess because other inmates don't take too kindly when someone gets special privileges like having X-Pac come and visit them. Yeah, he's literally the only wrestler who's bothered to reply. Imagine if you were Brendan Dassey and you found out a wrestler was coming to see you and then you found out it was X-Pac. You would be pretty gutted.
If there is one good thing about this story though it's that Brendan is being moved to a prison closer to his home, which will probably make it easier on family members going to see him. That's about it really.
For some crazy theories and developments about Making A Murderer, click here.