Prince Harry has been busy giving interviews and shooting TV shows all around LA recently, with the latest quotable doing the rounds regarding the first words of his 18-month-old son Archie.
Featured Image VIA
Harry said the following about Princess Diana in his new mental health series, 'The Me You Can't See':
I wish she could have met Meghan. I wish she was around for Archie.

I've got a photo up in his nursery… and it was one of the first words that he said. Apart from "mama", "papa", it was then "grandma", "grandma Diana".

It's the sweetest thing but at the same time makes me really sad.
Well, I'm sure it's possible a one year old could utter the words 'grandma Diana' if they were repeated in front of him for hours on end, but still pretty surprising Archie could go from simple repetitive sounds like 'mama' and 'dada' straight to 'grandma Diana'. What did Archie do the next day? Split the atom?
Funnily enough, Harry had previously told James Corden in an interview that his son's first word was 'crocodile':
My son is now over a year and a half, he is hysterical, he's got the most amazing personality, he's already putting two, three words together, he's already singing songs.

His first word was 'crocodile', three syllables!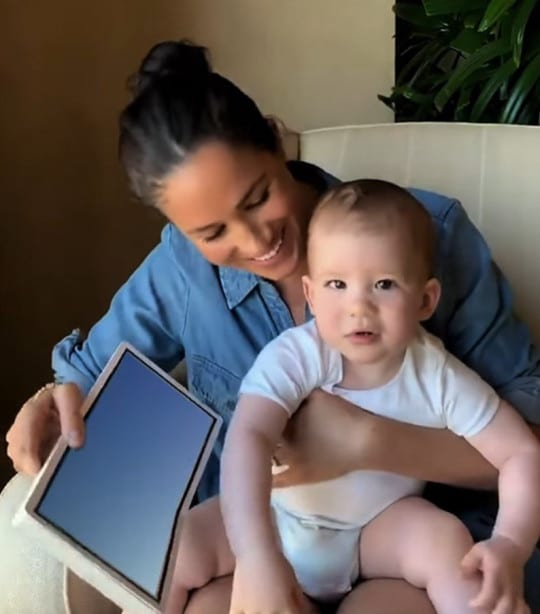 James looked impressed, calling it a 'big word', to which Harry said:
It is indeed. Not sure I can even manage three syllables on a particularly groggy morning.
He also said Archie really loves the word 'hydrate' when speaking with Oprah Winfrey about his son.
In the documentary, Harry also accuses his family of 'total neglect' and says his life was a 'nightmare', and then he turned to drink and drugs to cope:
I felt completely helpless. I thought my family would help – but every single ask, request, warning, whatever it is, just got met with total silence or total neglect.
Fair play on Harry for giving these interviews and making some money now that he's (I think) financially independent from the Royals, but it does kinda suck that he needs to drag his family members through the mud in order to do it. Then again I'd probably be a bit pissed off if my family (allegedly) had my mum killed too. Not that he's said anything of the sort… yet?
Meanwhile, also in the States, Meghan Markle's sister reckons that Meghan & Harry are headed for divorce. Imagine the scenes.