Prince Andrew is stepping back from royal duties for the 'foreseeable future' due to the Jeffrey Epstein scandal and the fact he made things a million times worse for himself with his car wreck BBC interview on the weekend.
Featured Image VIA
Here's the statement released by the Royal Family: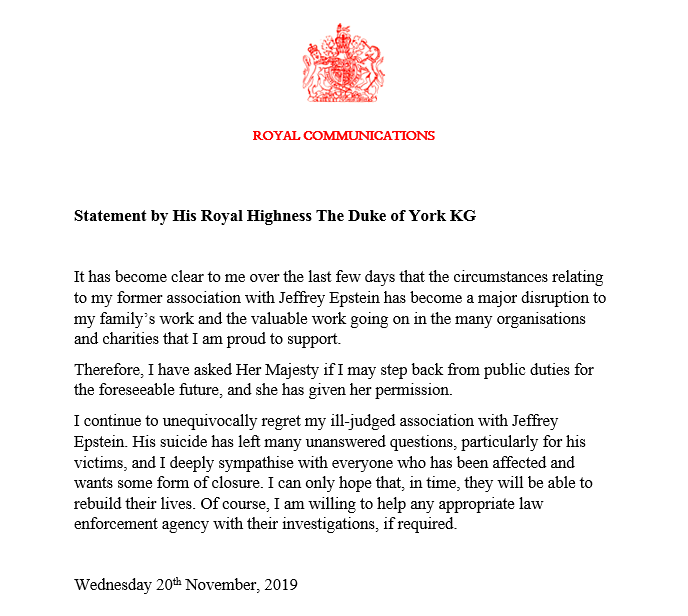 We know that Prince Andrew was one of Jeffrey Epstein's best friends. We know that Epstein had 13 contact numbers for him and they travelled together to Epstein's paedophile island. He was named specifically by Virginia Roberts, one of Epstein's victims/slaves who says she was forced to have sex with Prince Andrew 3 times.
Here they are together at the home of Ghislaine Maxwell – Epstein's pimp (who has vanished off the face of the earth btw):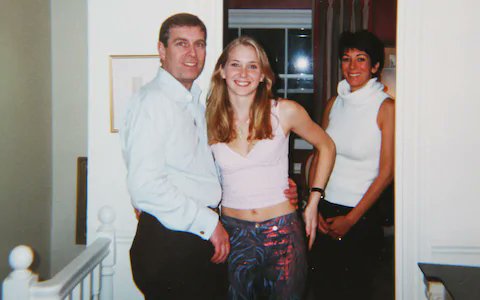 He says he has no recollection of Virginia Roberts. He suggested the image might be photoshopped because it was taken upstairs in that house and he had never been upstairs (how does he know which house it is then?). Then he said he never went around London in his travel clothes, has a condition meaning he can't sweat, and that he never really partied. 
Unfortunately Prince Andrew forgot about a little thing called the internet:
"I don't wear my travelling clothes in London" says Prince Andrew. pic.twitter.com/BYNjs5KYgi

— Jonny Mann (@lankeymarlon) November 16, 2019
"I don't sweat", said the profusely sweating man#PrinceAndrew pic.twitter.com/DmQOLsxreM

— Mors 🔇 (@MorsStupebit) November 17, 2019
Prince Andrew: "I don't know why I've collected that title because I never have really partied."#PrinceAndrew #PrinceAndrewInterview #Epstein #PrinceAndrewbbc pic.twitter.com/CifYnA5FYK

— Erinn O'Connor (@itz_just_ez) November 17, 2019
He also said he went to visit Epstein in New York AFTER the billionaire had been convicted of molesting kids because it was the 'honourable' thing to do. So honourable he stayed round his house for four days:
The reason Prince Andrew went and spent 4 days with convicted nonce Jeffrey Epstein? He was worried what Epstein would say to the Feds.

The public walk in Central Park was to avoid bugs.

Luckily Epstein was suicided. So all good. pic.twitter.com/4030P1ljoV

— Steve Brookstein (@stevebrookstein) November 18, 2019
After basically calling his rape accuser a liar, what's the worst thing he managed to say about Epstein?
He has quite obviously conducted himself in a manner that was unbecoming.
Wow, that'll cut you deep. Good thing he 'committed suicide' in his cell so he wouldn't have to hear his royal best mate say that he did something 'unbecoming'.
Will Prince Andrew and all the other (alleged) paedophile monsters at the highest levels of government, royalty and industry ever face justice? Probably not, but it looks like Prince Andrew is having a tough time of it for now at least. Seriously what was he thinking doing that interview in the first place?
To watch Prince Andrew blink 10 times in 10 seconds when asked if he had sex with a minor, click HERE. Says it all really.