Everyone knew that Prince Andrew's excuses for why he couldn't have had sex with underage girl Virginia Giuffre (formerly Roberts) were absolutely pathetic and this was highlighted even more last night as the BBC interviewed the woman herself and revealed more details about their relationship during a special episode of Panorama.
Images VIA 
As if Giuffre's tearful interview wasn't enough to make everyone believe that Prince Andrew was a dirty paedo, one key point in the report also highlighted that the Prince had allegedly sent an email to Epstein's girlfriend/fixer Ghislaine Maxwell at 5:50 am – presumably after a big night out at Pizza Express Woking – asking her to talk about Virginia Roberts. Here's a screengrab of said email as well as the contents: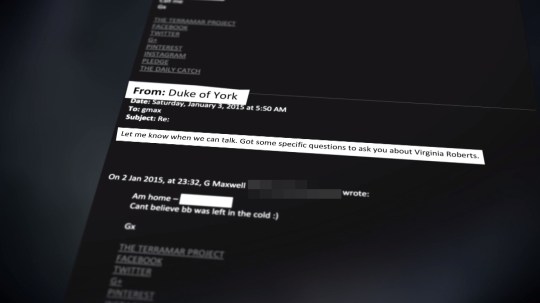 Duke of York  (that's Prince Andrew in case you're confused): 'Let me know when we can talk. Got some specific questions to ask you about Virginia Roberts.'

Maxwell|: 'Have some info. Call me when you have a moment.'
That doesn't look so good does it, especially as Prince Andrew as expressly denied ever meeting Giuffre, even though there is a picture of them arm in arm together. I mean of course all of this could obviously be completely fake or fabricated, but you've really gotta ask yourself why this woman – or anyone – would go to all the lengths to discredit Prince Andrew when I don't think anyone even knew he existed really until all this stuff with Epstein came out.
Seems pretty clear to me that he was involved with all these nefarious goings on and even if he keeps denying it I think everyone is going to keep pushing him and something is going to happen about it. Just haven't really got any clue how it's all going to end for him. Badly I hope, but it probably won't….
For more of the same, here's Prince Andrew's car wreck interview where he blinks ten time in ten seconds when asked an awkward question. One of the best moments of 2019.