If you saw a little old lady fall outside the front door of her home into the freezing cold temperatures outside, it would probably take 2 minutes max to help her up or call a neighbour or do literally anything to make yourself useful and help her out.
Not for this Royal Mail worker over in Falkirk, Scotland:
If you couldn't make that out, the postie's excuse for leaving 72-year-old Patricia Stewart laying in the snow was as follows:
I can't help. I'm knackered. Absolutely knackered.
He was knackered! Needs to preserve that last bit of energy he has left to finish his postal round, not deplete it further by helping an injured septuagenarian to her feet in -22 weather. What a postal pro!
Patricia's niece, Sheryl Harkins, is seriously pissed off about the whole thing:
I was shocked and disgusted. I've been looking after my aunt since September.

I thought it didn't sound right at first – nobody would leave a 72-year-old on the ground.

But then I saw the video. I was in disbelief. If I hadn't seen the video, I wouldn't have believed it.

It beggars belief. I don't know what the guy was thinking. It was bizarre.
Indeed, Sheryl. Indeed! How would the postie feel if someone did the same thing to an elderly member of his family? What decent human being would leave an old lady laying in the cold like that? It's actually mind-boggling.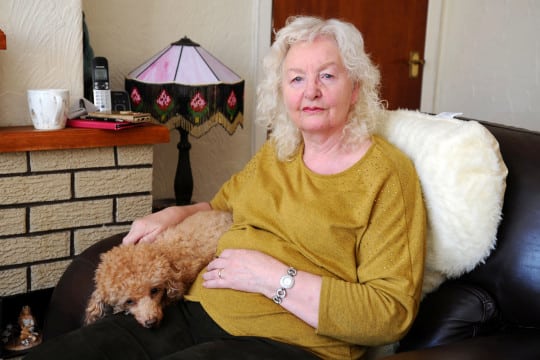 Thankfully, a Hermes worker arrived shortly after and went to a neighbour to ask for help. As Sheryl explained on Facebook:
Here's our postman this morning, my aunt had fallen and was lying on the path in the snow! If you listen closely you will here the postman telling my aunt, "I can't help you pal I've been out working since x time this morning in this weather" and walks away leaving a 72yr old lady lying in the snow!

Luckily the Hermes girl arrived soon after and done what the postman should have and called on a neighbour to help!

Thank goodness for that girl because this could have been a very different situation if she hadn't turned up when she did.

I honestly don't have the words for how disgusting this is, for a human being to treat another human being in this manner words fail me.
Hermes 1, Royal Fail 0. The good news is that Patricia is feeling 'much better now' and has also apparently been receiving loads of messages from postmen around Scotland apologising for their colleague's behaviour.
A Royal Mail spokesperson said:
Royal Mail expect the highest standards of behaviour from our people while out on deliveries and collections at all times.

We were very sorry to learn about this incident, and for the distress this incident has caused. We are in touch with the customer concerned and will be investigating this incident.
One p45 coming up, from the sounds of it.
For the postman who 'felt pressured' to deliver mail and so hid it all in a storage unit instead of delivering it, click HERE. Smart.