Everyone loves pornogrpahy – go on admit it – and it's always interesting to know if the depraved stuff that you're beating off to is the same as everyone else in the world, so it's always welcomed when PornHub releases their review of the year.
Featured Image VIA 
This time they've included what both men and women are jerking off to and you can see the results in the chart below: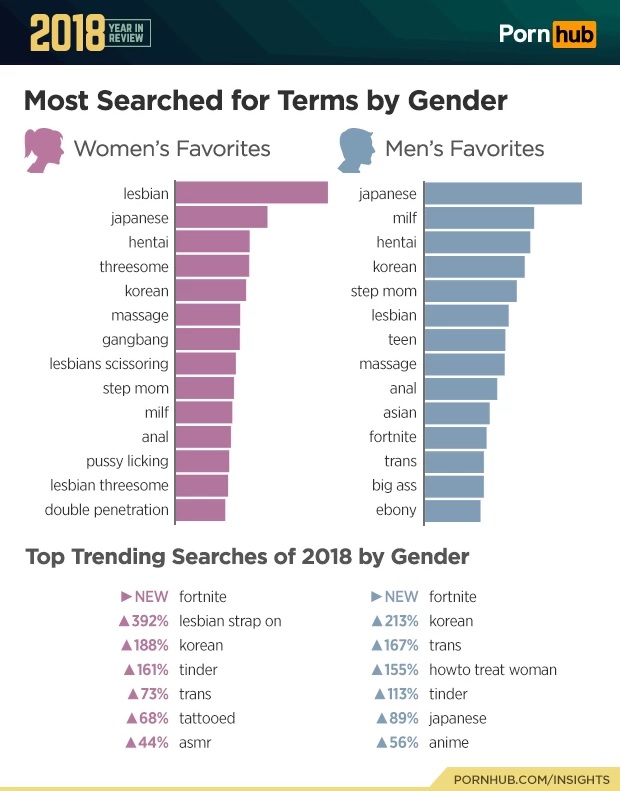 Pretty crazy that a lot of the increased trending terms are the safe for both male and females hey? Maybe not so much Fortnite because that's universally popular, but kinda crazy that people are so into the Japanese/Korean film this year all of a sudden. Or maybe it's just that the Japanese and Koreans themselves finally got into porn this year? Who knows?
One thing that is kinda weird is that guys are looking up 'how to treat women' but girls prefer to see 'lesbian strap on', because traditiaonlly your probably would hvae thought it would be girls who wanted to see themselves go on dates and be treated nicely and guy who would rather see a woman get rammed with a strap on. Sexual Therapy Psychologist and Pornhub Sexual Wellness Center Director Laurie Betito explains why this might be happening though:
Lesbian porn allows women to see acts they like to receive, which is why pussy licking is so popular.

Women are looking for more scenarios in their porn. In their fantasies, women want to be taken aback.

This is interesting because, in reality, women are stronger, and "in control" of their sexuality, while in their fantasies, some of them return to more traditional gender roles.
I mean I'm not gonna lie, that is pretty interesting. Do with that information what you will.
For more of the same, check out the date from 2007 compared with the data from 2017. How depraved we have become.