Donald Trump hasn't been without his fair share of controversies since he moved into The White House – or even before that – but the latest one regarding him cheating on his wife with porn star Stormy Daniels has probably been one of the most eye opening.
Featured Image VIA
The original incident happened back in 2006 and before he was President Of The United States, but even so Melania had only given birth to their son Barron about three months previously. Whilst Daniels has been quick to reveal she slept with Trump, she obviously sold her story to a tabloid magazine called In Touch and most of the details about it are going to be found within that, however In Touch did run a preview of the issue with some pretty tasty quotes about her experience:
"[The sex] was textbook generic," while discussing the fling they had less than four months after Donald's wife, Melania, gave birth to their son, Barron. "I actually don't even know why I did it, but I do remember while we were having sex, I was like, 'Please, don't try to pay me.'"

It all started at the American Century celebrity golf tournament in July 2006. "[Trump] was introduced to everybody. He kept looking at me and then we ended up riding to another hole on the same golf cart together," Stormy recalled, adding that the business mogul later came to the gift lounge her adult-film company, Wicked Pictures, sponsored and asked for her number, which she gave him, before they posed for a photo together.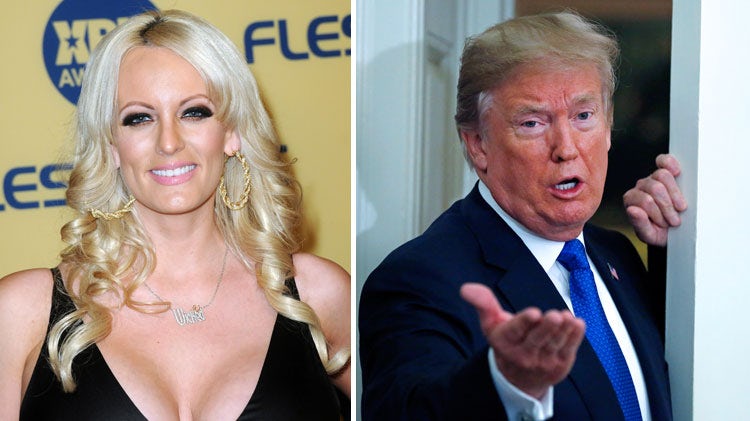 "Then he asked me if I wanted to have dinner that night. And I was like, 'Yeah, of course!'" she told In Touch. Stormy, dressed up to go out on the town, arrived at Trump's hotel room, where she says she was greeted by a bodyguard named Keith, who let her inside. Stormy claims Trump was sprawled on the couch watching TV, wearing pajama pants. "We ended up having dinner in the room," she revealed to In Touch.

At one point, Stormy told In Touch, she excused herself to go to the bathroom. "When I came out, he was sitting on the bed and he was like, 'Come here.' And I was like, 'Ugh, here we go.' And we started kissing." After having sex, Stormy said, "We hung out for a little while and he just kept saying, 'I'm gonna call you, I'm gonna call you. I have to see you again. You're amazing. We have to get you on The Apprentice.'"
Sounds like Trump doesn't really have that much game there but what do you expect from a man like him that already has countless sexual misconduct allegations and enjoys grabbing women by the pussy? Most surprising thing about it is that Stormy actually went through with it, but I guess that's just illustrative of how women feel pressured into sex they don't really want some of the time. Depressing.
For more on Trump, check out one of the dumbest things he's retweeted so far. Seriously retarded.