A Thai porn star named Jirawan Sukkasem is under investigation by the police after a video emerged online of her performing a sex act with a man in a monkey costume.
Images VIA
In the video, Jirawan, who also goes by the name Icejang Big Eyes Big Boobs (what a stage name), is seen committing a sex act with the man in the chimp mask before showering off while he watches. The video has since been taken down, but not before receiving over half a million views. Predictably, the footage has been uploaded elsewhere – obviously we're not in the business of publishing porn, but you can watch it if you search for 'A topless model and a gorilla mask' on YouTube if you're that interested. Here are some stills from the film: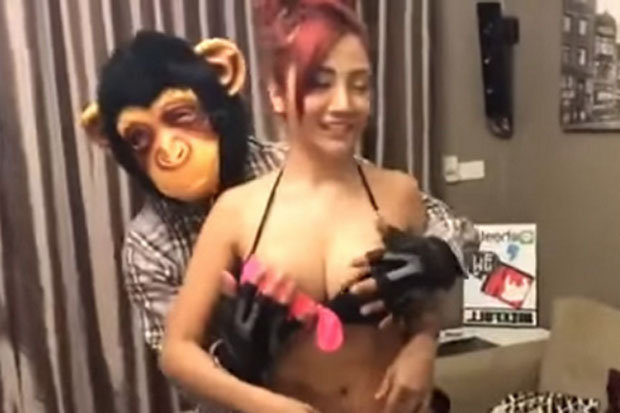 The police over in Thailand are now investigating the video to see if it breaks their laws on pornography. Commander of Technology Crime Suppression Division Col. Olan Sukkasem said that she could face obscenity charges and the man who uploaded the footage, known as Nine Inch Nickey, could also face a five year jail sentence. Savage.
The heavy sentencing is due to the fact that porn is illegal in Thailand under cyber crime laws. They can't be too happy about her other videos, if that is the case:
Bummer for Thai people that porn is banned completely, although if the recent laws are anything to go by, the UK is headed that way anyway. What a shitter.