As if the pop up restaurant craze wasn't already oversaturated and overstupified, Channel 5 have decided to promote their new series Bad Habits: Holy Orders through a pop up restaurant in Shoreditch called Nundos. Jesus.
Featured Image VIA
Bad Habits: Holy Orders is a new reality series which follows five young women swapping their distinctly modern lives for four weeks working in a convent in East Anglia. I'm sure there will be some tears, arguments and fights but they'll all end up coming away from the experience having learned something and appreciating the creature comforts of their current lifestyles.
Nundos on the other hand will be open from the 17th – 19th October at White Rabbit, Dereham Pl, London EC2A 3HJ. It will be staffed by members of the Daughters of Divine Charity and will provide chicken broth and lentil soup for free and you'll also be encouraged to talk to the sisters about God and stuff.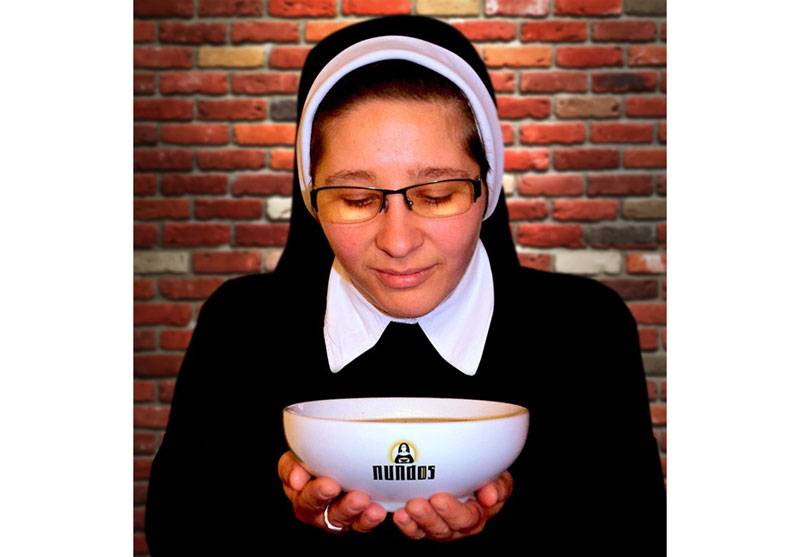 Surprisingly for the East London venue, the whole event is Instagram unfriendly and you're going to be asked to check your phones at the door when you go in. That's so you can take time to live in the moment and take stock or something.
To be honest, if it wasn't promoting a dumb TV show, Nundos doesn't actually sound half as stupid as I thought it would when I first heard about it and actually has some good ideas, especially if they aren't just giving free food to idiot hipsters who can afford it and actually send it the way of the needy. Unfortunately it's still promoting a dumb TV show, but maybe you have to do something stupid sometimes to do something good as well. That's OK.
For more nuns, check out Marilyn Manson unleashing some hell with a gang of sexy nuns. Of course he was.