Even as an adult, it's pretty much a gimme that you're probably still going to enjoy playing with LEGO so I'm sure the idea of venturing into a bar made out of one million blocks of LEGO where you'll also be able to build your own LEGO creations whilst enjoying a beer and listening to a DJ spinning tunes is probably going to get you as excited as it does me.
Images VIA
The bar doesn't have a set opening location or time yet, but all we know is that it's coming to London some time this spring. Here's information from the press release: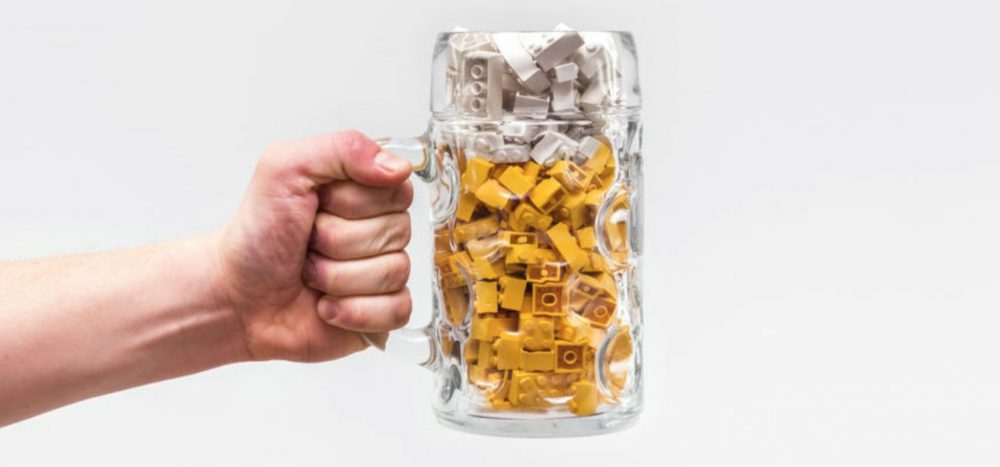 How long has it been since you pulled out your old building blocks, rounded up your friends and sat around creating and crafting castles, ships and whatever else you can imagine? If you've been waiting for an excuse, or your parents have given away your once beloved blocks this new pop up Adult playground might be just what you're looking for.

This Pop-Up, is the first of its kind and will consist of over 1 million blocks, transported and assembled into the ultimate nostalgia trip. The bar will feature sculptures made completely from building blocks as well as an abundance of blocks for people to shape into their own creations. There will also be local DJ's spinning tunes all day.

This unique bar will be sold on a first come first serve basis with tickets limited – to register your interest simply sign up in the box above for pre-release tickets.
Sounds pretty cool doesn't it? I assume that it's inevitably going to be around Shoreditch/Dalston/Hackney even though none of the details have been released yet as that's where people who don't want to grow up tend to live. If you want to be first in line though, be sure to sign up for ticket alerts as apparently it sells out pretty quickly when they've built similar bars in the likes of Los Angeles, Vancouver, Toronto, Montréal, Calgary, Perth, Brisbane, Sydney and Melbourne.
LEGO itself are denying any actual involvement due to the fact that they're a wholesome family company, but I'm fairly sure that this isn't going to stop a bunch of wannabe master builders from heading down and getting wasted and creating all kinds of LEGO monstrosities. Sounds like a fun Friday night.
For more of the same, check out these LEGO shaped burgers. Mmmmm.