It seems we haven't heard the last from former LaVergne, TN police officer Maegan Hall, who went mega viral last month for shagging six co-workers while on-duty and explaining that she was in an open marriage, which was news to her husband.
26-year-old Hall, who was fired alongside four other officers, has now opened up on how her sex life spiraled out of control, via an internal investigator's transcript obtained by NY Post:
"Me and my husband were kind of on the verge of a divorce and I just cracked and then it just kind of got out of hand.

I got stupid, I got desperate, I guess and guys are guys and they'll stick their d— in anything."
In one part of the 61-page transcript, Hall admitted to performing oral sex on Sgt. Lewis Powell inside a police substation and that their affair involved "lots of sex" and swapping nudes. She also detailed how she tried to coax her own husband into a wife swap with fellow officer Patrick Magliocco and his wife. But sadly, it wasn't to be:
"When Mags was like right by us, and then on the couch Mags was like 'if y'all start making out, maybe Jed will get into, my husband, into the idea. And when we started making out, Jed was like, 'no.'"
What a party pooper! Hall also recalled how she tried to hook her husband into a romp with another couple — Sgt. Ty McGowan, the fired sergeant, and his wife:
"Ty wanted to try to get Jed to have a thing with all of us," she told Patton. "We played strip Uno and then V (McGowan's wife) went out onto the patio with Jed, me and Ty kissed for a little bit and then that was it."
Well alright then. Police station BJs, "lots of sex" with co-workers, nude swaps, failed attempts at threesomes, games of Strip Uno, and an astute bit of insight from Hall that "guys are guys and they'll stick their dxck in anything". Something that she took full advantage of, clearly!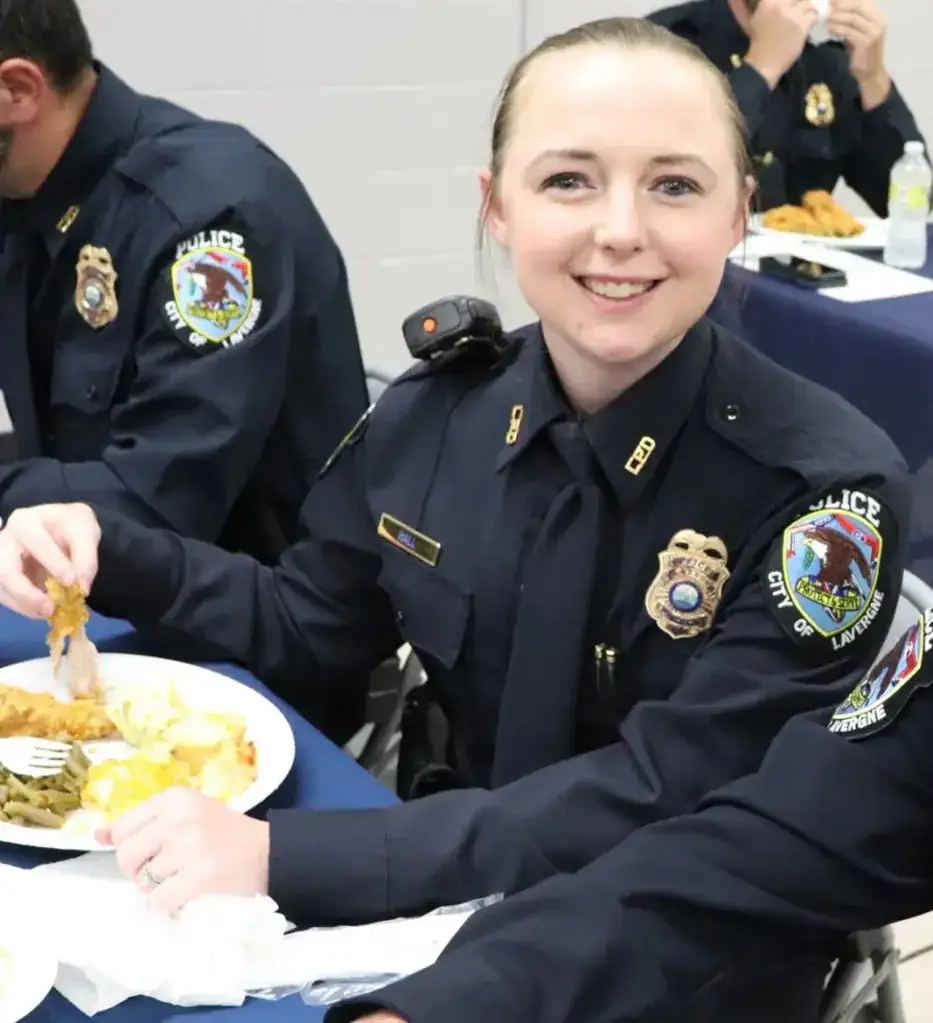 If only the criminals of LaVergne, TN, knew what the local police force was up to, they'd probably have got up to loads more criminal activity and not had to worry about getting caught. After all, it sounds like the entire force was too busy shagging and sending nudes to each other all the time. I still think it's a bit harsh that Maegan Hall is taking most of the heat for this, especially as two of the male officers were married too. But at least she had a ball it all lasted. Onwards and upwards!
For the police officer who was suspended after setting up an account called 'Officer Naughty' on OnlyFans, click HERE.