A police investigation has been launched into a group of men in Wales who have been accused of racism after painting their faces black and dressing up as the Jamaican bobsleigh team from the 90s classic film 'Cool Runnings'.
Images VIA
The men dressed up as part of the annual bank holiday carnival in Aberaeron, wearing wigs, bodysuits and the colours of the Jamaican flag. They even quoted the movie's classic tagline on their float:
Feel the rhythm! Feel the rhyme! Get on up, its bobsled time!
Soon after the event, a complaint was made to the police who are now looking into it. A police spokesperson said:
Dyfed-Powys police received a report of a perceived hate incident, which occurred at Aberaeron carnival on Monday, August 28. An entry to the carnival parade was considered racist.

Inquiries are being made by local officers.
Meanwhile local Labour candidate Dinah Mulholland sent this post out to show her disdain for the offensive outfits: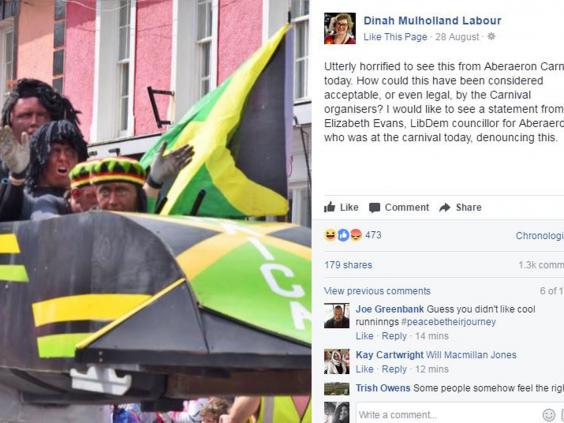 Looks like this team didn't make it to the finish line. Seriously though, what were they thinking? Everyone knows that it's no cool to be doing 'black face' in this day and age – that was a backwards move right there.
To read about the highly offensive filter on FaceApp that got taken down hours after it was launched, click HERE. Come on guys, this is 2017.