It's never a good time when I have to write about poachers killing endangered species for fun, but it keeps happening so here we are again.
Images VIA
This time it's the turn of the super rare white giraffe, after the remains of a female and her calf were found in a village in Kenya's Garissa County. The poachers haven't yet been identified and neither have their motives, but it's being said that only one white male giraffe now remains in the Ishaqbini Hirola Community Conservancy and it's thought to be the last in the world, meaning that they're pretty much extinct now thanks to these bastards.
Here's what Mohammed Ahmednoor – the manager at the Conservancy – had to say about it: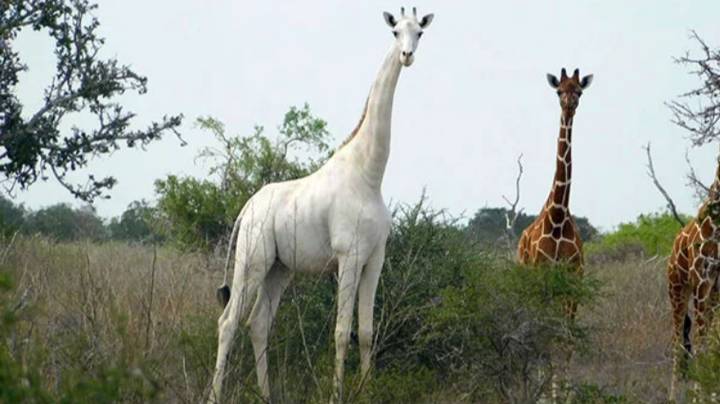 This is a very sad day for the community of Ijara and Kenya as a whole. We are the only community in the world who are custodians of the white giraffe.

It's killing is a blow to the tremendous steps taken by the community to conserve rare and unique species and a wake-up call for continued support to conservation efforts.

This is a long-term loss given that genetics studies and research which were significant investment into the area by researchers, has now gone to the drain.

Also, the white giraffe was a big boost to tourism in the area.

After this incident, only a lone bull remains.
What a sad, devastating story. I really don't get what poachers would have gained from killing these endangered animals – or any wild animals to be honest – but it makes it even more galling when their actions are pretty much condemning the species to extinction. Sobering.
For more on giraffes, check out these ones doing the high dive. Yeowch.