31-year-old Anneliese Shabbir has said that she has fallen out with her local branch of Domino's because they repetitively failed to meet her expectations for jalapenos.
Images VIA
The pizza lover from Scotland said that she always asks for extra on top, but they never reached a satisfying amount, particularly when they only added a measly seven. That's not even enough to get a sweat on.
Shabbir has become so distraught with her lack of spicy peppers that she has resorted to phone battles to get her £1.40's worth:
I actually ring them and place an order for collection, rather than use the website, so that I can speak to someone and stress the bit about extra jalapenos.
With the most recent pizza there were literally seven jalapenos on the whole pizza. It was pathetic.

I've complained about it before, yet I still get the same pizza. I called in to yet again complain and I was told by the management team that if they continue to disappoint me, then they would encourage me to go elsewhere.
And after her most recent complaint, Shabbir actually got an email from the branch in Linlithgow telling her that she was banned, as they could not meet her expectations. A spokesperson from the branch said: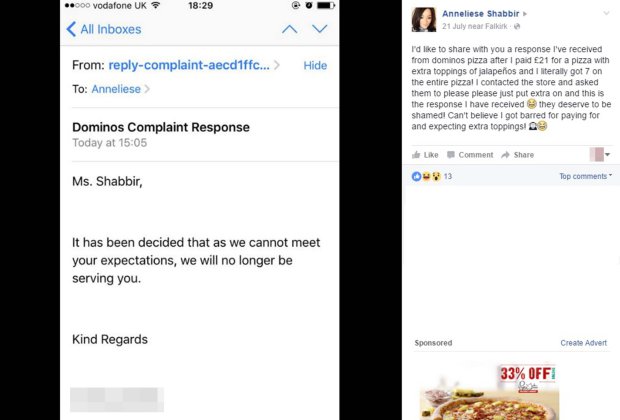 Despite every effort by our store team to satisfy Ms Shabbir, it seemed we were unable to meet her expectations, and so it was suggested that it may be best for both parties if we do not accept any future orders from her.
I'm gonna stick up for Shabbir in this case – I mean what 'effort' is involved? All they have to do is chuck on a handful more jalapenos. Seems like she orders from there regularly enough to make it worth their while. Stingy bastards.
For more on Domino's (we still love you, you know) check out their recent invention – the 'BurgerPizza'.