I'm all for vegan versions of my favourite foods, but I've gotta admit that they're just not quite as tasty as the animal related originals and I'm pretty sure that there are a hell of a lot of people out there that would agree with my opinion on this and even more that won't even begin to entertain the idea of vegan food in the first place.
Featured Image VIA 
With that in mind, I'm fairly certain that a large percentage of the UK population is going to actively despise the news that Pizza Hut are looking to eventually replace all cheese on their pizza with vegan alternatives in an effort to cut emissions. Whilst this might be a noble idea in practice, the fact is that a whole horde of people are going to go absolutely apeshit about having to use a vegan substitute on their pizza, even if it is Violife which is probably the best vegan substitute cheese out there for this purpose.
A company spokesperson said the following about the idea (from Plant Based News):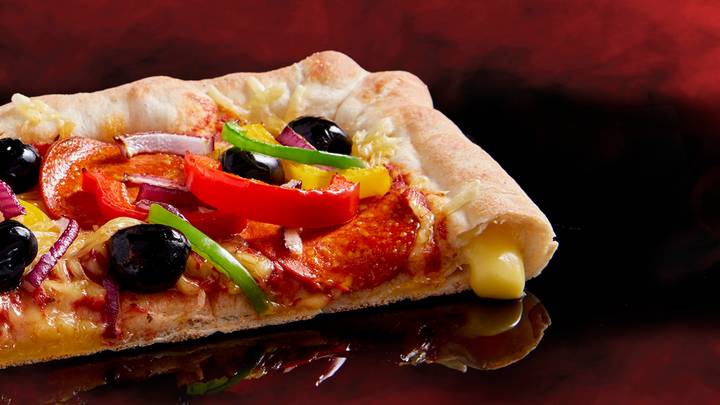 We are on a innovation journey where we focus on listening to our guests and challenging ourselves to create new products that make a more positive impact. We are really proud of our plant-based food offering and are delighted to be able to give all our guests, including non-vegans, the freedom of choice. We have been serving Vegan Pizzas since 2017 and now have expanded to offer a full Vegan menu with a range of Starters, Mains and Desserts.

We don't envision taking dairy products off the menu in the near future, however we are really proud of our plant-based food offering and are always looking to innovate and test new products. This includes our current trial of dairy free mayonnaise in our Salad Bar and also potential for future trials of cheese blends. The Vegan menu has had a phenomenal response from our guests, which has led us to simplifying our menu even further, with our dairy-free 'I Can't Believe It's Not Cheesecake' as the only cheesecake on our restaurant menu.

At Pizza Hut Restaurants we are dedicated to evolving our practices and processes with the aim of making a more positive impact. Our Vegan Menu is one of the many initiatives we have in place – including our food donation programme, our continued commitment to food reduction and our aim to be a carbon neutral business by 2030.
I mean I suppose the key part there is that they don't envision taking dairy products off the menu any time in the near future, but if they want to be carbon neutral by 2030 that could mean that they do it by then in order to meet that goal. 10 years probably is just over the threshold of the near future, right?
The fact is that they've  already done it with the only cheesecake on their menu being dairy free, so it's only a matter of time before they're doing it with their pizzas as well. To be honest, I welcome it – more and more people are going vegan and it's undeniably a good thing in terms of the environment, morality and health, so the sooner more restaurants get fully on board with it then the sooner it will be accepted in society and this can only be beneficial for it as whole. Hopefully that doesn't happen too soon though as I'm still into eating cheese and pepperonis on pizza though.
For more of the same, check out the Pizza Hut vegan stuffed crust. It's already happening.